Brewers: Ranking The Top 5 Potential Suitors For A Josh Hader Trade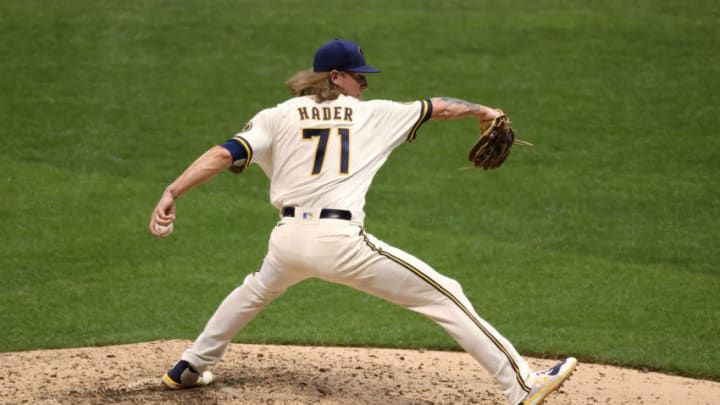 MILWAUKEE, WISCONSIN - AUGUST 24: Josh Hader #71 of the Milwaukee Brewers pitches in the eighth inning against the Cincinnati Reds at Miller Park on August 24, 2020 in Milwaukee, Wisconsin. (Photo by Dylan Buell/Getty Images) /
Josh Hader, Milwaukee Brewers (Photo by Michael Hickey/Getty Images) /
3. Los Angeles Dodgers
Another big market team with a known affinity for Josh Hader and the ability to pay him the money he's going to get over the next few years is the Los Angeles Dodgers.
Fresh off a World Series victory, the Dodgers may not be as hard pressed to make a big ticket upgrade like they have been the last few seasons. Still, Kenley Jansen is entering his mid-30s and will be in the final year of his contract in 2021. By getting Hader, the Dodgers will have the back end of their bullpen locked down for a few more years.
The Dodgers have a bevy of position players at the big league level and only a limited amount of spots for them. That leaves players like Gavin Lux, who would've been an everyday starter all season long for nearly any other team, to sit on the bench or in the minors for most of the season.
They have the position players to plug the holes in the Brewers lineup, and they also have the prospects that would intrigue the Brewers to shore up their farm system.
However, the Dodgers also have been notoriously stingy with their prospects. They keep the ones that turn out to be good (i.e. Seager, Bellinger) and trade away the ones that turn out to be overhyped. It's great for the Dodgers, but any prospects that they're willing to part with should have a healthy dose of skepticism around them.
Gavin Lux is someone that would likely make the difference in Josh Hader talks. He's a talented infielder that's from Wisconsin and would plug one of the infield holes the Brewers have. He's been successful in his limited opportunities at the big league level. The limits on those opportunities is more due to already entrenched starters rather than having a job and losing it like Andujar and the Yankees.
The Dodgers have a large number of players that could interest the Brewers in a Josh Hader trade, and it's if they're willing to part with the pieces David Stearns is asking for, a deal can be had.
The reason the Dodgers are down at No. 3 on this list, however, goes back to their level of urgency. When they hadn't won a World Series since 1988, the urgency to win was extremely high. Now that they have that title, is the same sense of urgency to make a big move there?
Time will only tell, but it's fair to assume the sense of urgency to make a deal like this in 2020 is lower than what it was in 2019.