Opening Day Countdown: Gantner's 11 Starts at 2B on Opening Day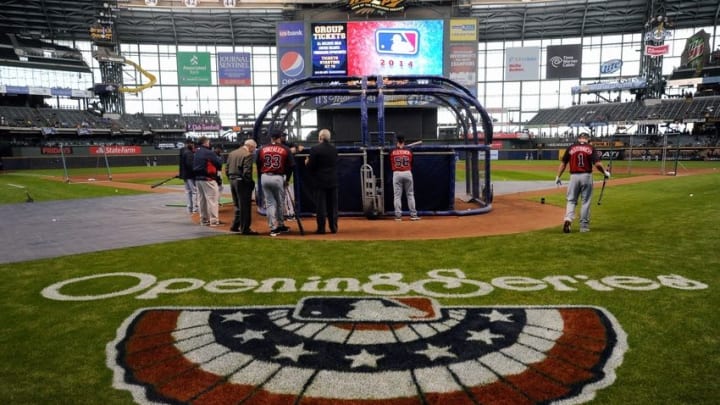 Mar 31, 2014; Milwaukee, WI, USA; The Atlanta Braves takes batting practice before an opening day baseball game against the Milwaukee Brewers at Miller Park. Mandatory Credit: Benny Sieu-USA TODAY Sports /
As we continue to countdown the days until Opening Day, let's take a look back at Jim Gantner's 11 times he opened up the season at 2B. Nowadays, a player spending his full career on one team is a rarity, so Gantner spending all 17 seasons (1976-1992) with the Brewers is pretty special. As some positions are a shoo-in for players and others are still questionable, Gantner was one that the Brewers could always rely upon.
His Opening Day starts were from 1981-1989, then 1991-1992. This was the most of all-time at one position for a Brewers player. But, we certainly can't forget Robin Yount was close with 10 starts at SS and being a CF on top of that, he started 8 in that position too.
More from Reviewing the Brew
Gantner didn't get his first Opening Day start until 1981, his 5th year with the Brewers. He batted last, but made sure to make it noteworthy as he went 1-3 with a BB, 3B, and an RBI. Not a bad start as the Brewers beat the Indians 5-3 and familiar names like Mike Caldwell got the win and Rollie Fingers took the save that would start a trip to the World Series.
Although, Gantner didn't have any big time walk-off memories on Opening Day, he was always consistent. A good reason the Brewers held on to him. In 1987, the Brewers opened the season at home against the Red Sox and he had his best Opening Day as he went 3-3 with 2 runs and an RBI.
In 1983, Ganter had a career high 4.3 WAR. The year before he had a 2.6, his 2nd highest. He started off the '83 season nicely going 2-4 with 2 singles. Although, he wasn't an All-Star or a big highlight reel, fans love to be familiar with players. As the Brewers will start to see some new players come through the system this year, hopefully they'll love the team as much as Ganter did the Brewers.