Milwaukee Brewers Farm System: Brevard County Manatees Roster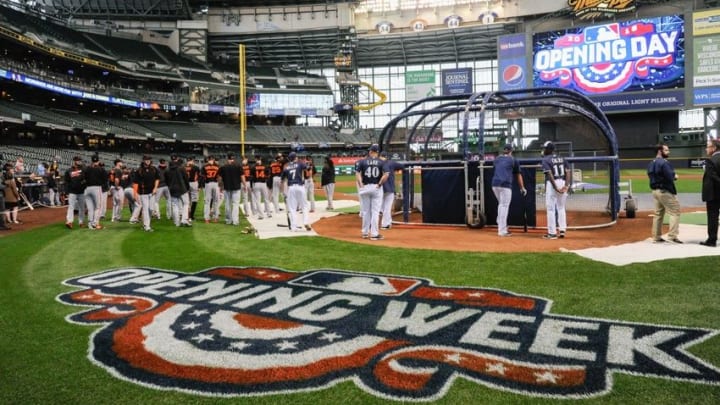 Apr 4, 2016; Milwaukee, WI, USA; Players warm up before the Opening Day game between the Milwaukee Brewers and the San Francisco Giants at Miller Park. Mandatory Credit: Benny Sieu-USA TODAY Sports /
Opening Day For the Brewers High-A affiliate, the Brevard County Manatees, is tomorrow.  With the beginning of the season comes the official Manatees roster announcement for the club.
Pitchers: Bubba Derby, Kaleb Earls, Eric Hanhold, Brad Kuntz, Kodi Medeiros, Jon Olczak, Cody Ponce, Junior Rincon, Tyler Spurlin, Josh Uhen, Angel Ventura, Kender Villegas, Brandon Woodruff
Catchers: Dustin Houle and Fidel Pena
Infielders: Blake Allemand, Taylor Brennan, Jose Cuas, Dustin DeMuth, George Iskanderian, Angel Ortega
Outfielders: Clint Coulter, Johnny Davis, Brandon Diaz, Omar Garcia
More from Reviewing the Brew
Highlights from this list include former first round pick Clint Coulter, former first round pick Kodi Medeiros, former second-round pick Cody Ponce, and recent trade acquisition Bubba Derby.  Clint Coulter will be in his second season with the Manatees and is an outfielder converted from catcher with some pop in his bat.  This will be the first season with the Manatees for Kodi Medeiros after the lefty spent all of the last season playing for the Timber Rattlers.  At only 19 years old Medeiros will be way under the average Florida State League (FSL) age.  Cody Ponce spent last season with the Timber Rattlers as well, and will be making his first appearance in the FSL.  Bubba Derby came to the Brewers in the Khris Davis trade and along with Medeiros and Ponce should form a formidable rotation for the Manatees.  When Devin Williams joins the team after extended spring training, the Manatees will have a very exciting starting rotation.
One more name that may be familiar is Josh Uhen.  The righty was drafted by the Brewers in the 5th round in 2013 out of UW-Milwaukee.  The hometown guy will be playing in his fourth season, first, for the Manatees, coming mostly out of the bullpen, though he has started a few games each year.
Check back next week for recaps and highlights from the first few games.