Milwaukee Brewers: Tough Call for 3B Chad McClanahan On Whether or Not to Sign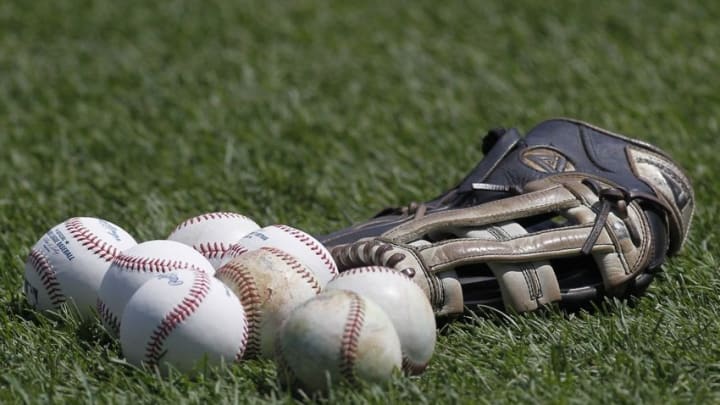 Jul 4, 2014; Pittsburgh, PA, USA; MLB baseballs and a glove sit on the field prior to the Pittsburgh Pirates against the Philadelphia Phillies at PNC Park. Mandatory Credit: Charles LeClaire-USA TODAY Sports /
So far the Milwaukee Brewers have signed 21 of the 41 they selected in the 2016 MLB Draft, but it's not an easy call for those picked in the later rounds.
Third Baseman Chad McClanahan was selected by the Milwaukee Brewers in the 11th round with pick #321. While it's easy to jump on board seeing that pre-draft the last pick in the 10th round could be possibly worth $156,000, you never know until it's actually offered.
McClanahan himself plans on playing at Arizona State University and has been offered a scholarship. But, if offered enough money by the Milwaukee Brewers, he may always change his mind. Looking at Jim Callis' Twitter feed reporting on the recent signings, the 11th round picks have gotten all sorts of different money offerings. (Most recent in last 24 hours – 125K from Royals up to Twins at 600K).
But, before going further into the deal, just who is Chad McClanahan and why did the Milwaukee Brewers go after him if they know it's unlikely he'll sign with them?
He was drafted for his power as he had 12 HRs, 39 RBIs and hit close to .400 (via AZCentral.com). McClanahan would've most likely gone much higher in the MLB Draft if teams were certain he was coming up to the big leagues.
More from Reviewing the Brew
For the Milwaukee Brewers it's no big risk being late in the draft, but for a player like McClanahan it may be a tough call. Although, he's not necessarily a high pick, there's certainly no guarantee what will happen down the road and if he'll get drafted again.
Like many baseball fans, I'm reminded of the movie Moneyball where young Billy Beane was drafted 23rd by the New York Mets and decided to go for it out of high school. With big money on the table, it was a big leap, but one he felt like he may not have another chance. While he did make it to the big leagues, he lasted 6 years and played just 148 games.
While right now the Milwaukee Brewers and Chad McClananhan are talking, it'll be somewhat surprising if he does indeed decide to sign as the 321st pick when there's the possibility of being drafted higher and more money down the line.
Big name players like SP Jake Arrieta are examples of that as he was first drafted by the Cincinnati Reds in the 31st round of the 2004 draft after his senior year of high school, then the 26th round by the Milwaukee Brewers the next year after his freshman year of college. Then like most MLB fans know was drafted by the Baltimore Orioles in the 5th round in 2007 and got a 1.1 million dollar signing bonus.
But, just last year two pitchers, RHP Mike Matuella, and LHP Brady Aiken dropped as they both required Tommy John surgery. Matuella dropped all the way to the 3rd round to the Texas Rangers, while Aiken went to the Cleveland Indians at #17 after being selected #1 in 2014, but didn't sign.
More from Brewers Draft
Although, McClananhan is no pitcher and doesn't have to be worried that his arm isn't going to be as big of a risk, it's certainly possible MLB teams will see more of his all around game at the college level and simply not be picked next year. Looking at the 2015 MLB Draft, 42 players didn't sign.
Players included SS Nicolas Shumpert, drafted by the Detroit Tigers in Round 7, #220, but was eligible for this year's draft and wasn't picked by any team. Also, OF Kep Brown, Round 10, #311, who went on to University of Miami and won't be eligible until his junior year or he's 21. Not to mention yet another pitcher who had a big offer over 2 million, Kyle Funkhouser, at pick #35 in Round #1, but ended up going back to the Detroit Tigers who drafted him to begin with, but certainly lost out on some money (1.75 million from the Dodgers) at pick #115.
While, it's certainly always a personal choice as there's more to it than simply accepting money and playing baseball, the Milwaukee Brewers are hopeful they'll get most of their draft picks signed by July 15th. The draft picks that sign on have a long road ahead of them and most baseball fans can only hope for the best for players like Chad McClanahan, no matter what decision they make.