Milwaukee Brewers: Keon Broxton, trade chip?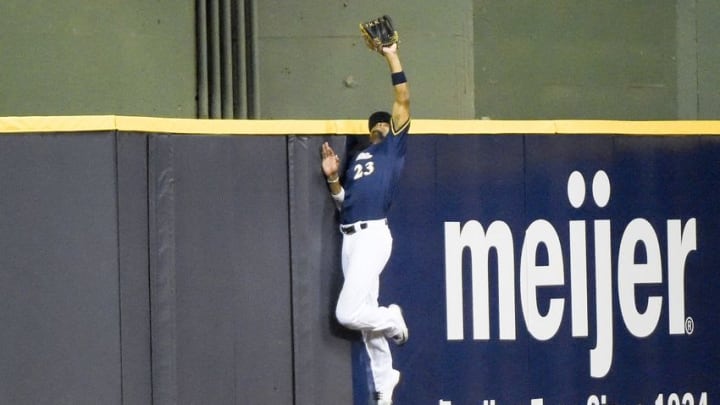 Benny Sieu-USA TODAY Sports /
The Milwaukee Brewers have an interesting piece in Keon Broxton, he could bring back good value in a trade.
Keon Broxton is an interesting player. The 26-year-old is expected to man center field for the Brewers in 2017.  Despite his early struggles, he was actually quite productive in 2016.  There is a lot to like.  In 244 plate appearances, he slashed .242/.354/430 with an impressive 14.8% walk rate and 23 steals.  He also graded out positively as a defender, and that contributed to his 2.1 fWAR last year.  Broxton may be a bit unproven, but he is young, controllable, and has a lot of upside.
The New York Mets are in need of a center fielder. Mike Axisa of CBS sports gives an in-depth breakdown of their current outfield situation here.  Basically the roster as currently constructed has too many corner outfielders. Andrew McCutchen would be the obvious choice for the Mets to target. Former Brewer Lorenzo Cain, would also fit. However, Keon Broxton may be able to fill the Mets void.
I am a Keon Broxton fan.  I think he is already a solid regular with upside. I am not sure how he fits into the Brewers plans long-term.  The Brewers unanimous top prospect is Lewis Brinson who plays center field.  He spent last year at AAA, and probably has a shot to make the team out of spring training.  It is almost certain we will see him in the big leagues in 2017. Trading Broxton would clear the way for the future in center field, while bringing back more controllable young talent.
Why it could work.
As stated, the Mets need an actual center fielder. Not a converted corner guy who tries to make it work, and preferably one with an on base percentage above .300 (Juan Lagares).  Broxton is also a cheaper, controllable option when compared to McCutchen and Cain.  Also Stearns is not adverse to trading Major league players if the deal is favorable.  The Brewers received Broxton in a similar "counter building" trade for Jason Rodgers last off-season. If the Mets would trade just prospects (and not one of their current glut of corner outfielders) for Broxton, I could see this trade happening.
Why it can't work.
The Mets will almost certainly want to send Curtis Granderson or Jay Bruce out in a trade for a Center fielder.  In and of itself, this is probably not a deal breaker.  Both players are heading into the final years of their contracts. Either player could be flipped at the trade deadline if they preformed well in 2017.  The Mets would probably need to send at least one (maybe two) high upside prospect along as well. Not a top prospect, but someone in the lower levels with potential, along the lines of Merandy Gonzalez or someone of his ilk. This seems like a lot to give up for a player like Broxton.
David Stearns has proven to be very shrewd when trading assets.  It is a distinct possibility the asking price for Broxton may be too high to get a trade like this done. The Brewers need not trade Broxton unless the right deal comes around, even with in-house replacement Lewis Brinson at the ready.  That is an enviable position to be in.
More from Reviewing the Brew