Milwaukee Brewers: Team payroll among the best value in baseball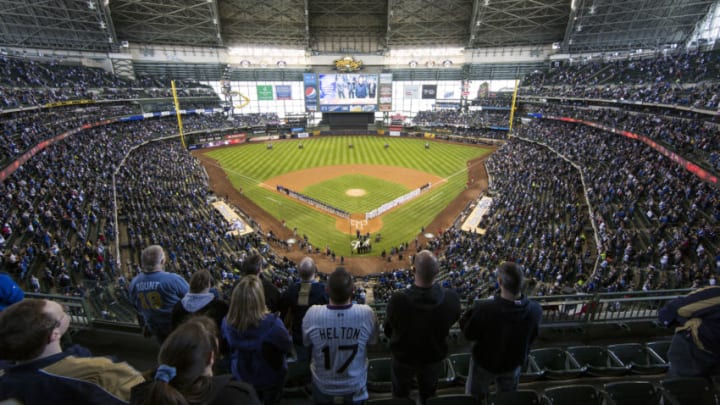 MILWAUKEE, WI - APRIL 01: An overall general view of Miller Park during the National Anthem before the start of the Colorado Rockies and Milwaukee Brewers game on Opening Day at Miller Park on April 1, 2013 in Milwaukee, Wisconsin. The Brewers defeated the Rockies 5-4. (Photo by Tom Lynn/Getty Images) /
With the lowest payroll in baseball, the Milwaukee Brewers have put together a contender ahead of schedule. By one metric, the  Crew are the best value team in all of baseball.
The Milwaukee Brewers remarkable level of success in 2017 has been punctuated by David Stearns ability to find value players. Tom Haudricourt of the Milwaukee Journal Sentinel wrote an article on September 9 about how the Brewers, despite having the lowest opening day payroll in baseball, have found themselves among contending teams spending two to four times more.
One way to analyse payroll value is to find the number of dollars of payroll paid per win.  While payroll commitments often change during the season, opening day payroll is often the most documented number.  Using the Associated Press payroll values, Milwaukee has lowest payroll per win through September 11.
MLB Payroll Used Per Win (Using AP Opening Day Payroll)
With the Brewers 75 wins, they have paid just over $800,000 per win, while the Cardinals paid over $2,000,000.  Meanwhile, while the Dodgers have the most wins in baseball, only four teams are paying more per win: the Mets, Tigers, Giants and Yankees.  Only the Yankees are contending for a playoff spot.
The Brewers aren't alone in getting value out of a low payroll.  The Diamondbacks have the fourth best value. The Twins, Rays, Astros and Indians are among the ten best in the league.  While these numbers will change, it shows competency from these small market front offices.
What does this mean for the Brewers in the future?
Mark Attanasio trusted the process of the frost office, the franchise is poised to have room to improve.  Key free agents can be added to fill lineup holes in the coming years.  Stearns could also attempt to buy out the arbitration years of several of the key players from the 2017 season, including Orlando Arcia and Travis Shaw.
Next: Is Travis Shaw this years MVP?
While we continue to revel in the excitement of the Milwaukee Brewers contending for the division and wild card, the promise of a long window of contention should have fans excited for years to come.  The front office approach will give the team a chance to contend within their budget in 2018 and beyond, even if the Cubs can't be caught this year.