Milwaukee Brewers: How to fix the 'Wrigley North' problem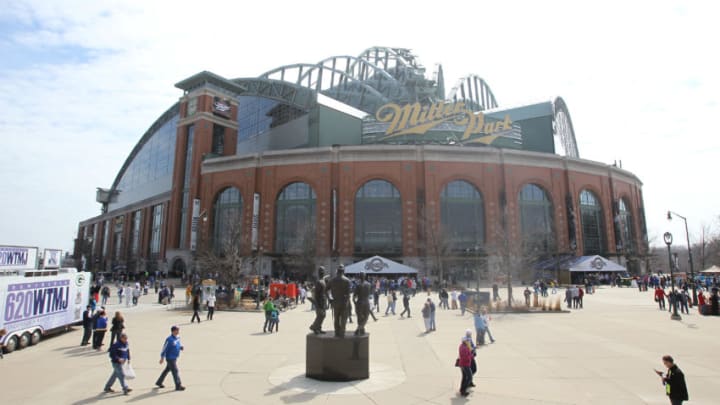 MILWAUKEE, WI - APRIL 06: General view as fans arrive to Miller Park before the start of Opening Day between the Colorado Rockies and the Milwaukee Brewers on April 06, 2015 in Milwaukee, Wisconsin. (Photo by Mike McGinnis/Getty Images) /
Cubs fans invaded Miller Park during the pivotal four game series against the Brewers.  What can the team do to prevent them from turning Miller Park into 'Wrigley North'?
Since the Brewers entered the National League in 1998, fans of the Chicago Cubs have made the quick 90-minute trek to Milwaukee to see the Cubs take on the Crew. With easy access to the Interstate, plentiful parking, cheaper ticket prices and tailgating, watching games in Milwaukee was well worth the trip north. When Miller Park opened in 2001, Cubs fans had an added reason to make the trip north. The retractable roof guaranteed that the game would be played. These reasons, along with competitive Cubs teams, cause Cubs fans to attend games in droves at Miller Park, or as some fans call it, 'Wrigley North'.
The Milwaukee Brewers attempted to quell the issues of losing a home field advantage during Cubs games for years. In the mid-2000's, marquee pricing was added for Cubs games to capitalize on Chicago fans, who are used to higher prices at Wrigley Field. These marquee prices continue today in the Brewers demand based pricing. However, Cubs fans were unfazed by the price change.
To many Brewers fans, Cubs fans are often more rowdy and consume more alcohol than any other opposing team fans at Miller Park. These fans even make New Jersey politicians upset.
With the Crew building a contender and the Cubs attempting to build a dynasty, it is imperative Brewers fans outnumber Cubs fans at Miller Park. What can the Brewers do to increase the presence of local fans at home? Here are a few options that the front office might want to consider:
Presales for Wisconsin residents
Travelling fans are part of what makes sports great.  However, some fan bases travel more than others. Rivalry games cause opposing team fans to travel even more. The Seattle Seahawks limited ticket sales to Washington residents for the 2014 NFC Championship game against the 49ers for this reason. For a potential tiebreaker game, the Brewers realized that a game against the Cubs may be possible, and wisely limited the first six hours of sales to Wisconsin residents. These presales may be necessary in the future for regular season games.
Discounts for Wisconsin residents
With nine or ten Cubs games at Miller Park every season, Brewers fans may need more incentive than a presale. Discounted prices for Brewers-Cubs games may bring more local fans to Miller Park. With technology that limits ticket transfers, these discounted tickets would have to be used by the fans that bought them. This technology would decrease the secondary market sales, where Cubs fans are often willing to pay higher prices. While many Cubs fans live in Wisconsin, discounts are an incentive for more Brewers fans to attend.
Win more games
Winning changes everything. While the Brewers have secured a winning season in 2017, it was a surprise to many fans. The Cubs also dominated in Miller Park with a 7-3 record. If the Brewers are able to win more games against the Cubs and compete for division titles in coming years, more Brewers fans will undoubtedly come to Miller Park for these rivalry games.  Brewers GMDavid Stearns undoubtedly has the Brewers on the right track.
Next: Travis Shaw saves the season
There's no easy answer to the 'Wrigley North' problem at Miller Park. Cubs fans have many reasons to enjoy Miller Park beyond baseball. However, a majority Cubs contingent makes for a sub-par experience for Brewers fans. Discounts, and a consistent winner may be the best way to bring fans of the Crew to Miller Park.