Milwaukee Brewers: Miller Park add extended netting in 2018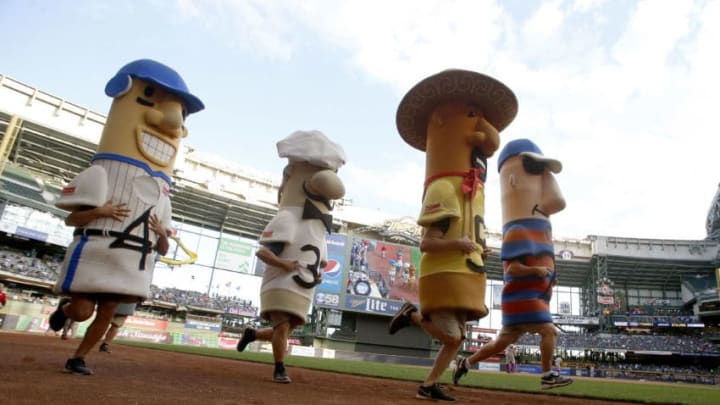 MILWAUKEE, WI - SEPTEMBER 28: The Racing Sausages race during the sixth inning in the game between the Cincinnati Reds and the Milwaukee Brewers at Miller Park on September 28, 2017 in Milwaukee, Wisconsin. (Photo by Mike McGinnis/Getty Images) /
The Milwaukee Brewers announced on Friday that they will extend protective netting on the field level at Miller Park. The team is currently "working with engineers and vendors" and the project will be completed before 2018 home opener.
Currently, Miller Park is up to MLB standards for the netting, which extends to the inside edge of each dugout. By the start of the 2018 season, the netting will extend to the outer edge of each dugout.
Why are they adding netting to Miller Park?
The nets are a response to multiple instances across of fans hit by baseballs or bats at recent games. There hasn't been any significant fan injuries in the recent memory of Miller Park, but it has definitely effected people across MLB.
One example was in Yankee Stadium, where the netting was at MLB standards, a ball off of the bat of Todd Frazier hit a young kid in the stands. The child went to the hospital, and play was stopped to attend to the incident.
The benefits of the netting is to provide protection for fans on the field level from hard line drives. There is at least one scorching foul ball in almost every game, and most of the time fans are prepared. However, when they're not ready, it causes problems.
How will this impact the fan experience?
The people who disagree with this decision may mention how fans are too busy staring at their phones, and if they just payed attention this wouldn't be a problem. Fans staring at their phones is a big part of it, and that is the world we live in now. On the other hand, even if you're paying attention, 110+ MPH off the bat is not easy to react too.
Going to a baseball game should always be a fun, safe experience. Whether you think fans need to "pay more attention" or not, there should be absolutely no question as to the importance of fans' safety.
Unfortunately, the worry of a baseball is not going to change people's use of phones, or their attention of the actual game when attending baseball games. It's really up to them as they paid for the tickets.
Next: Are the Royals the perfect trade partner for the Brewers?
The Milwaukee Brewers are just another team in MLB to extend the netting in their stadium. While not everybody is in love with the decision, it should be a good solution in the battle of spectator safety.