Milwaukee Brewers: A potential Cuban prospect needs a team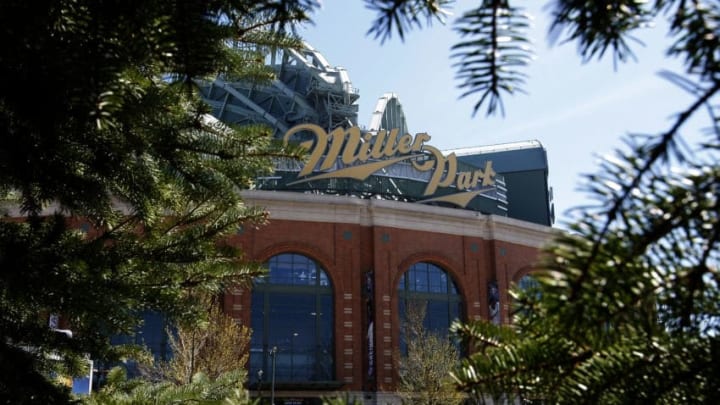 MILWAUKEE, WI - APRIL 06: A general view of Miller Park on Opening Day before the St. Louis Cardinals play against the Milwaukee Brewers on April 06, 2012 in Milwaukee, Wisconsin. (Photo by Mike McGinnis/Getty Images) /
The last thing the Milwaukee Brewers need right now is to bring in another outfielder.
With the exception of Giancarlo Stanton, who is listed as a possibility for the Milwaukee Brewers by MLBTR, there would be no need for one. That is immediately, at least. But a 21 year old prospect from Cuba brings with him reason to add another future outfielder.
MLBTR values Julio Pablo Martinez as a High A, possibly Double A, talent. He is not too far away from being in the MLB, but he is not ready to go like Yulieski Gurriel was for the Astros. Should David Stears make the decision to bolster his MiLB outfield, then Martinez would be an interesting option.
As it stands right now, there are 12 teams who would only be able to offer Martinez the minimum from their bonus pool. That drastically lessens the potential suitors. Since the Brewers are not on that list of teams, that gives them an advantage only 18 teams have. That is a lot better than one in 30 as far as odds go.
Obviously odds are not enough reason to sign a player. But his stats show that he can play. His main tools are his power and speed combination. Two things that are helpful apart, but lethal together.
The process of becoming eligible is tricky for international prospects. There is a lot that can go wrong during the process. Even the coveted Shohei Otani is figuring that out. So step one for Martinez is to get through all of the hoops in order to be signed.
At 21 years of age, there is room to groom Martinez into the player he will be. He is being ranked below the likes of Lourdes Gurriel and Luis Robert, but is still one of the top players coming out of Cuba.
In his most recent season, Martinez slashed a solid .333/.469/.498. But the most intriguing part of that season is that he struck out 30 times while drawing 56 walks. The tools were on display with six homers and 24 steals.
The Milwaukee Brewers have a bevy of outfield prospects already. But one more won't hurt. Odds are they would take one in the next draft anyway. So why not take one less in the draft because Martinez fills the void.
Next: Are we in for surprises at Winter Meetings?
It is something to think about once he becomes available. Clearly the Crew know how to develop outfielders, and with his raw skills Martinez can be something special. He still is a ways away from being available, but as things progress it is certainly worth keeping an eye on.