Milwaukee Brewers: Three pitchers to know for the Rule 5 Draft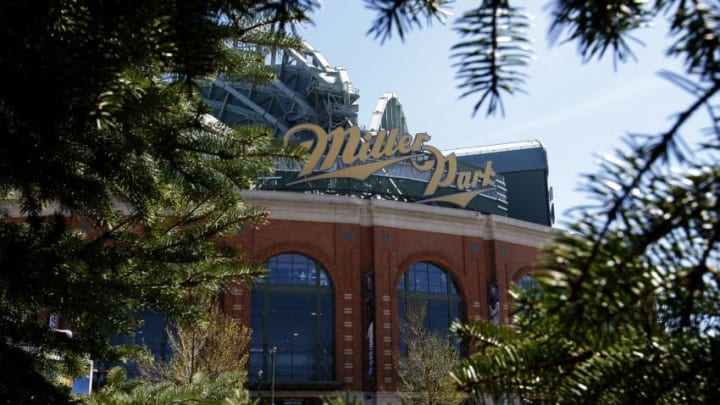 MILWAUKEE, WI - APRIL 06: A general view of Miller Park on Opening Day before the St. Louis Cardinals play against the Milwaukee Brewers on April 06, 2012 in Milwaukee, Wisconsin. (Photo by Mike McGinnis/Getty Images) /
40-man rosters were set at 8 PM EST on November 20th. The Milwaukee Brewers made a few moves to add prospects to the roster in order to protect them from the Rule 5 Draft. Now that we know who's protected, who could the Brewers actually select on December 14th?
Any player who was 18 or younger before their signing date and has been through five Rule 5 drafts is eligible. Also, any player 19 years or older before their signing date and has been through four Rule 5 drafts is eligible.
Enough about the rules. which three pitchers should the Milwaukee Brewers take a look at?
Jordan Guerrero, LHP, Chicago White Sox
It's a surprise that Jordan Guerrero was left unprotected while names like Jacob May and Alen Hanson stayed on the 40-man. Guerrero went in 15th round in 2012. He stands 6'3″, and he'll turn 24 years old next summer.
Guerrero spent 2017 in Double-A and posted a 4.18 ERA in 25 starts. He walked 43 and struck out 136 in 146 1/3 innings of work. He boasts a solid fastball, curve ball, change up mix with solid control almost across the board. His change up is his most polished pitch, and his fastball sits in the low 90s. He profiles as a competent innings eater for the back end of a Major League rotation. If the Milwaukee Brewers want to add depth to their starting rotation, Guerrero could hang on as a swing man if he has a solid spring.
Kohl Stewart, RHP, Minnesota Twins
Kohl Stewart was the fourth overall pick in the 2013 draft. The fact that he was left unprotected really speaks to how far his star has fallen. Stewart fits the profile of a former top prospect in need of a change of scenery. The Rule 5 Draft looks like an opportunity.
He spent most of 2017 in Double-A, and posted a 4.09 ERA in 16 starts. He struck out 52 and walked 45 in 77 innings of work.
Stewart is the Twins 9th rated prospect. He suffered a shoulder injury in 2014, but his stuff appears to have bounced back. He has a two-seam and four-seam fastball, and a quality slider, but he lacks the control and third pitch to succeed as a starter. His slider and change up both need work. A move to the bullpen may have to occur at this point to resurrect Stewart's career.
Jeff Brigham, RHP, Miami Marlins
Jeff Brigham was drafted in the fourth round of the 2014 draft by the Los Angeles Dodgers. He went to the Marlins in 2015 in the Mat Latos deal. Brigham required Tommy John surgery in his sophomore year of college. Teams have monitored his workload carefully since he signed.
Brigham spent 2017 in High-A, and the results were positive. He posted a 2.90 ERA in 11 starts. He fanned 53 and walked 20 in 59 innings. Brigham has an impressive fastball reaches into the upper 90s. His slider is Major League quality, but he lacks secondary stuff to work as a starter.
With his plus fastball and the concerns over his workload, the Milwaukee Brewers could convert Brigham into a reliever.
Next: Does Mark Appel fit with the Crew?
While there are several well known success stories from the Rule 5 Draft, there are hundreds of guys who are never heard from again. There is talent out there, but the Rule 5 Draft is the ultimate case for finding a diamond in the rough. Keep an eye out for these pitchers in the draft, but there's a reason they're available by the team that signed them.