Milwaukee Brewers: Could Mauricio Dubon start at second in 2018?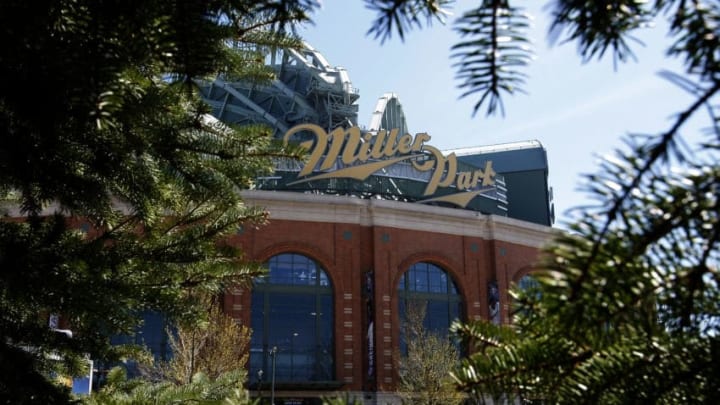 MILWAUKEE, WI - APRIL 06: A general view of Miller Park on Opening Day before the St. Louis Cardinals play against the Milwaukee Brewers on April 06, 2012 in Milwaukee, Wisconsin. (Photo by Mike McGinnis/Getty Images) /
Right now there is not a player who can be considered an everyday second baseman for the Milwaukee Brewers. There are several prospects to fill the spot in the future, however.
But the future could be now for the Milwaukee Brewers. It is a stretch, but it isn't impossible. Mauricio Dubon is looking just about ready to make the jump. He would not be the first player in MLB history to start a little before he was fully ready due to necessity.
The Case for Dubon
Dubon has played in only 58 games at the Triple A level. Ideally he would want more. But a .272 batting average is a positive. The 23 year old infielder has spent seven years in the MiLB with a .297 batting average. He looks ready to compete in Miller Park.
His strikeout numbers are the biggest indicator, to me, that he will compete at the next level. In those 58 games, he struck out 34 times. If he were being overmatched more often, this would be a completely different story.
In 2017, Dubon appeared in Spring Training for the Miwlaukee Brewers. He hit .368 in 19 at bats. I understand that it is only Spring Training. However, he will most likely get more chances this year. A good performance is his ticket to starting for the Crew.
How Would He Fare?
The best way to do figure that out is to compare him to another player. His potential partner up the middle, Orlando Arcia, makes a decent comparison numbers wise. They look to be similar hitters, but Arcia spent about 40 more games at the Triple A level.
In 100 games, Arcia hit .267 for Colorado Springs. But he did strikeout at a higher rate than Dubon. The first 55 games in the MLB were not that pretty for Arcia. He hit .219. However, 2017 was a lot better for the shortstop.
What that says about Dubon is that he will probably start slow. But once he settles in, the opportunities are endless. The experience of being there will do great things for him, so long as he does not get discouraged.
Will This Happen?
No, probably not. It is likely the Milwaukee Brewers front office will decide to give him the seasoning he needs in Triple A. That is the smarter move. Really the only conceivable scenario where Dubon would start on the MLB roster is if GM David Stearns really overpays for a free agent or inherits a big contract via trade. Which does not seem like something he would do.
Next: The bullpen answer could be in Detroit
This does give something to think about when calling for Stearns to sign a second baseman. The Milwaukee Brewers might have the answer readily available, and already in the organization. His name is Mauricio Dubon.