Milwaukee Brewers: Troy Stokes, Jr. An Under The Radar OF Prospect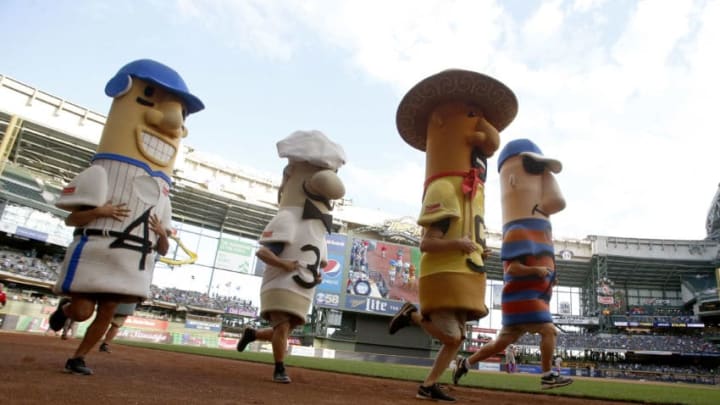 MILWAUKEE, WI - SEPTEMBER 28: The Racing Sausages race during the sixth inning in the game between the Cincinnati Reds and the Milwaukee Brewers at Miller Park on September 28, 2017 in Milwaukee, Wisconsin. (Photo by Mike McGinnis/Getty Images) /
The Milwaukee Brewers have outfielders littering their Top 30 prospects list. However, the Crew has one outfielder that isn't on any lists that could find himself on them soon.
Troy Stokes Jr. spent the 2017 season between High-A Carolina and Double-A Biloxi, even earning a spot on the Triple-A Colorado Springs playoff roster. Stokes put together one amazing breakout season. He put up career highs in doubles, triples, home runs, steals, RBIs, walks, and total bases.
Stokes hit .251/.341/.447 with 28 doubles, five triples, 20 homers, and 30 stolen bases. He's not only a 20-20 player, he's a 20-30 player. Stokes knocked in 74 runs while drawing 63 bases on balls.
Considering in his three prior seasons in the minor leagues, his career high was five home runs, this is a major power surge. While his batting average did take a dip, his slugging percentage increased nicely.
The 21 year old outfielder was drafted in the fourth round back in 2014. He's primarily known for his speed and projects to be a leadoff hitter in the majors. Players that rely solely on their speed can be dangerous prospects to rely on, but Stokes appears to be adding some tools to his repertoire. With his recent power surge, he now can make a name for himself in this loaded Milwaukee Brewers system.
Stokes must have made an adjustment to his swing to try to add more power. It resulted in a lot more home runs, but it also increased his strikeouts and lowered his batting average. But that is to be expected when making an adjustment.
Stokes primarily played left field in 2017 and may not possess the arm strength to lock down right field but he did have four outfield assists. He has the speed to play center field. Although if he makes it to the major league with the Milwaukee Brewers, that position will likely be locked down already.
While the Brewers are full of outfield talent, another strong season in 2018 could vault Stokes up the prospect lists. If he can continue to show the same ability to drive the ball for extra base hits while increasing his batting average, Stokes could find himself in the major leagues very soon. It will be difficult for him to crack the starting lineup in Milwaukee but it's not impossible.
The more he's able to get on base, the more he'll be able to steal bases. Speed is his primary tool, but his newfound power could be what gets him to the big leagues.
Next: Nick Ramirez Re-Signs On MiLB Deal
Hopefully Stokes can repeat his 2017 success this year. There is a lot of talent in outfield picture but with prospects like Corey Ray and Trent Grisham underperforming to this point in their careers, there's a window for Stokes to push his way through the crowd. And that window is wide open.