Milwaukee Brewers: Jake Arrieta Compared to Yu Darvish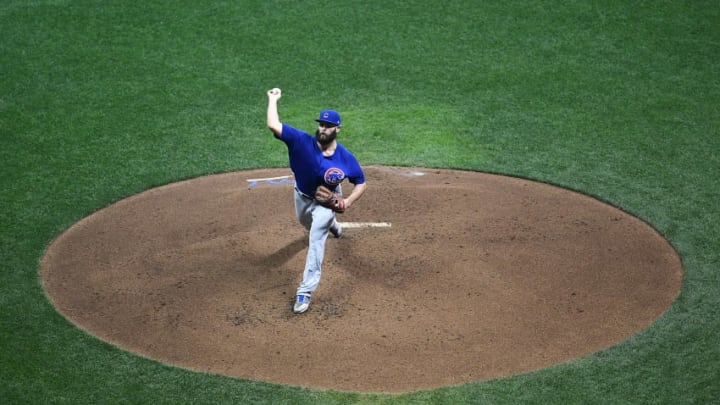 MILWAUKEE, WI - SEPTEMBER 21: Jake Arrieta /
The Milwaukee Brewers have been the subject of many offseason rumors regarding the high level free agent pitchers. With Yu Darvish now off the table after signing with the division rival Cubs, Jake Arrieta is a tempting target.
Jake Arrieta will turn 32 before the season starts. Yu Darvish is a few months younger and won't turn 32 until August. Age is a factor in terms of the contract the Milwaukee Brewers would be willing to pay Arrieta. But if they want him, the requirement is a lot of money along with a long term contract.
How did last year go for Darvish & Arrieta?
In terms of how both performed last season, they each had high points and low points. Darvish threw more innings, racked up more strikeouts and a posted a better WHIP than Arrieta. Although, Arrieta did have the stronger ERA at 3.57. Arrieta also had two very strong postseason starts while Darvish had an ERA over six in four playoff starts. Darvish also struggled mightily in the World Series.
Darvish does seems to fit more of the "ace" role in terms of his workload. He had close to 200 innings, and more than 200 strikeouts. In a rotation without Jimmy Nelson, having a starter who can pitch a lot of innings is extremely important.
The bullpen of the Milwaukee Brewers has solid pieces in Corey Knebel as the closer, Josh Hader as a potential setup man, and others who will fit into their roles. However, getting to Hader and Knebel is the key factor for an "ace" starting pitcher. Nelson's complete game this year was the first in multiple years for the Brewers. This shows how they have struggled to find pitchers who can consistently go deep into games.
What about the post season?
In terms of pitching in the postseason, Arrieta would seem to clearly be a better option. Darvish isn't a pitcher that can truly be trusted in big postseason situations yet, while Arrieta has been very good throughout his career in the playoffs.
Another key aspect that leans in Arrieta's favor is how each pitcher went into the off season. Arrieta's stats are somewhat inflated due to a poor first half, but a very good second half. After the all star break, Arrieta posted a 2.28 ERA, 1.08 WHIP, and 61 K's In 67 innings in addition to the two very solid postseason starts.
Which one is more 'must watch'?
If you look up videos on the two pitchers, and are a fan of pitchers with "great stuff", then Yu Darvish is probably your guy. Darvish has more pitches he can throw than the average pitcher. He also gets a lot more movement than most are capable of. Arrieta is no slouch in this department, but Darvish is a guy people turn on the TV for to watch his pitches.
Who fits best into the Milwaukee Brewers rotation?
The unfortunate aspect of this off season is that none of the pitchers are truly a sure thing. Darvish, Arrieta, Alex Cobb, Lance Lynn, and even trade targets such as Chris Archer all have question marks attached to them. In an off season where the Milwaukee Brewers really need a top tier starting pitcher, this isn't the best year to do it. However, they may have to.
Chase Anderson, Zach Davies, and Jhoulys Chacin are comparable to guys like Cobb and Lynn. They aren't aces, but are good for the 2nd, 3rd or 4th spot in the rotation. With that said, the Milwaukee Brewers are more in need of a guy who will take over the "ace" role, especially when having to deal with Nelson's injury during the first half of the season.
Darvish is considered by many to be the better pitcher than Arrieta, despite some numbers that disagree. Whether that's true or not is to be determined, but with that price set for Darvish, Arrieta could be a bit cheaper and a little less of a long term commitment.
Should the Brewers move for Arrieta?
The Milwaukee Brewers don't have to spend money in free agency to get an ace pitcher, but it does seem to be the more likely, and easier option. The Rays are going to require a huge package for Archer. He's currently the only known 'ace' that's available.
If the Brewers are truly going to go all in, and they have faith in Arrieta, then spending as much money as needed is the best option. However, it will not be a sure "slam dunk" deal. It could definitely come back to haunt them in the future if Arrieta struggles or does not age well.
Next: Should the Brewers consider Lance Lynn?
If the Milwaukee Brewers pull the trigger on Arrieta, they will get a veteran pitcher with valuable postseason experience. That would be very helpful on a young team like the Brewers. Not every fan will be on board with signing him, but he would contribute to a 2018 Brewers team with postseason aspirations.