Milwaukee Brewers: Single-Game Tickets On Sale Saturday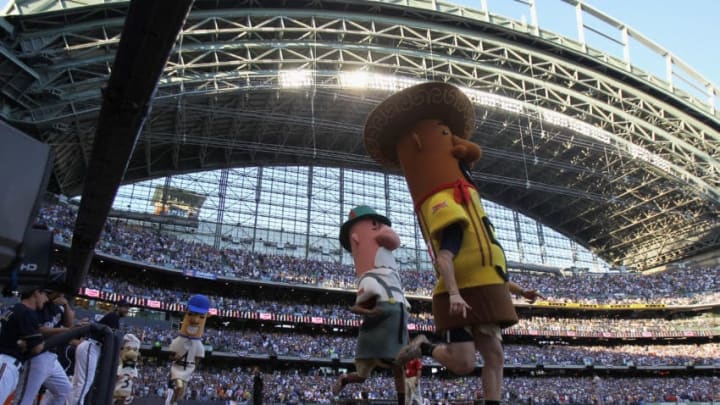 MILWAUKEE, WI - OCTOBER 09: The Chorizo /
Get your tent ready and bring your flannels — Arctic Tailgate is back! Whether you're waiting in line, on-line or on the phone, your first chance to buy single-game tickets for the Milwaukee Brewers 2018 season starts this Saturday, February 17 at 9:00 a.m.
Although ticket sales officially start at nine o'clock, because it's Milwaukee and the frigid winter, the party starts on Friday night. A tailgate party sponsored by Miller Coors includes food, beverages, music and other activities. It's not a bad way to pass the time while waiting for tickets. If you plan to take part in the tailgate, please be aware of the restrictions concerning shelters and power sources before you go.
Opening Day tickets are available but limited to four per fan.
If you're like me, you've spent some of your off-season time researching the bobblehead games and other special events the Milwaukee Brewers have planned this season. The list below will help to decipher the options.
Promotions
Promotions feature ticket discounts, game highlights, and give-aways.  As in previous seasons, Kids & Seniors Discount Days (50% off tickets for kids 14 and under and seniors 60 and over), 5-County Fridays and Free Shirt Fridays will continue.  New in 2018 is Dollar Dog Days which will feature (wait for it . . . ) hot dogs for just $1.
Theme Nights
Theme Nights offer fans the chance to get a unique item. If you purchase a themed ticket package – such as Super Heroes Night, Pride Day or Cerveceros Day – you'll get a special bobblehead or t-shirt or make a donation to a featured charity.
This year, even your pooch can go to the game for Bark at the Park. This includes a pre-game dog parade and a portion of the ticket package sales goes to Wisconsin Humane Society and Animal Rescue Foundation.
Giveaway Games
The list of giveaway games is a long one.  Check out this link for a complete list of bobbleheads, hats, shirts and other giveaways.
Next: Who's already on the Brewers roster bubble?
Don't forget that multi-game packs are also available.
Miller Park Ticket Office Hours (as of February 18):
9 a.m. – 7 p.m. Monday through Friday
9 a.m. – 5 p.m. on Saturdays
11 a.m. – 5 p.m. on Sundays (with extended hours on game days).
Tickets and parking also available at Brewers.com and by phone at (414) 902-4000