Milwaukee Brewers Prospects: #17 Caden Lemons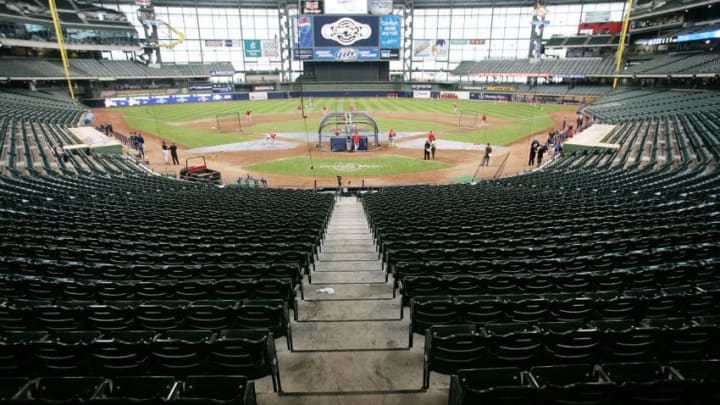 MILWAUKEE - APRIL 10: Members of the Los Angeles Angels of Anaheim take batting practice before fans are allowed into the park for a game between the Angels and the Cleveland Indians on April 10, 2007 at Miller Park in Milwaukee, Wisconsin. (Photo by Jonathan Daniel/Getty Images) /
We continue our journey through MLB Pipeline's top 30 rankings of the Milwaukee Brewers farm system with Caden Lemons.
The Milwaukee Brewers second round pick last season is ranked 17th on the 2018 list. He is up one spot from his standing last season. Lemons has thrown three professional games, but the 19 year old is surrounded with excitement.
Player Profile
Lemons is 6'6″ tall, and that alone is something to be excited about. His fastball is a big reason he was selected out of high school. It sits in the low 90's, but can touch 97 at times. The fastball is a 60 grade, followed closely by his slider as a primary secondary pitch with a grade of 50. His curveball and changeup are still in the works.
It is not easy being young and tall as a pitcher. The long limbs make it hard to repeat delivery at times, especially with the arm slot. That is something Lemons is working on now. As he fills out his frame and repeats his delivery it will help his curveball become more consistent, and better.
Performance
It's been three games. there is not a lot to tell here. Lemons has given up two runs in 2.2 innings. That translates into a 6.75 ERA. Both of those runs came in the second of his three appearances. He also did not walk a batter, while striking out one.
His performance this season will be a lot more telling. With the rest he got this offseason, he will be utilized more in the coming year. Because of that, there will be more concrete stats to look at by midseason than we have now.
How Does He Project?
With his size and four pitch mix, he will project as a starter. If he can find the consistency, his curveball will get nice bite to it and the changeup will find enough fade to help him succeed as a starting pitcher. His MLB ETA is 2021, so there is a lot of developing left to do.
The good news is that even if his other secondary pitches are lacking, a mid 90's fastball mixed with a good slider gives Lemons an edge in relief as well. If the Milwaukee Brewers notice that starting is not the correct route, they can still get a potentially reliable reliever for the late innings.
Next: Prospects: #18 Taylor Williams
There are several ways to handle this situation. Because he already has two pitches that are pretty far along at 19 years old, he is ahead of the curve. That should give him enough time to focus developing his other two pitches, and he will eventually see the Milwaukee Brewers rotation.