Milwaukee Brewers: The Case For The Marlins Man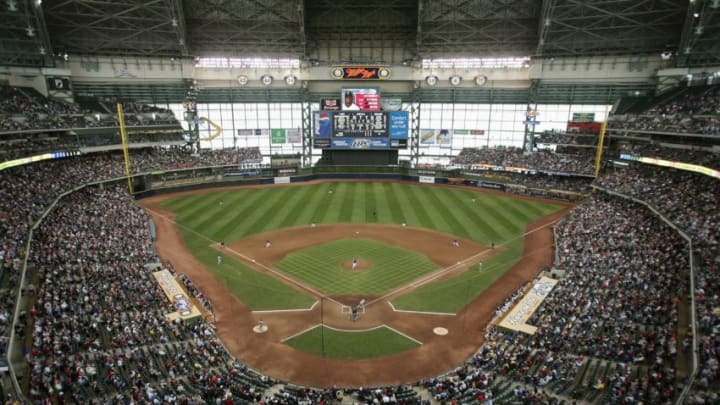 MILWAUKEE - MAY 20: A general view of Miller Park taken during the game between the Milwaukee Brewers and the Minnesota Twins on May 20, 2007 at Miller Park in Milwaukee, Wisconsin. The Brewers defeated the Twins 6-5. (Photo by Jonathan Daniel/Getty Images) /
The Milwaukee Brewers might still have one big free agent left to pursue as the season gets under way.
That's right, the most recognizable fan in sports is not happy with his current situation. Miami and the Marlins Man could not decide on a season ticket package, and reports are saying the fan is seeking a new team. It will be the first time since the team entered the MLB that he will not have tickets. This is where the Milwaukee Brewers come in.
We've all known David Stearns to kick the tires on every possible move. Well, this might not be a move between the lines, but it is a move. A man without a team deserves one, and Milwaukee is a hard team not to like.
Why Should The Brewers Go For The Marlins Man?
How nice would it be to see the most famous 'average joe' fan sporting the Milwaukee blue? It brings with is some national notoriety that will only help in the end.
He is already used to wearing an "M" on his hat, why not make it stand for Milwaukee? Frankly, Derek Jeter's loss can be Slingin' Stearns gain in this case. All it will take is the right offer, and he could become known as the Milwaukee Man. The name is subject to change, but it is a start.
Why Does The Marlins Man Want Milwaukee?
For starters, Miller Park is lovely. But beyond that, he won't have to get used to seeing an entirely new lineup. Christian Yelich is a former Marlin and a current Milwaukee Brewers outfielder. The familiarity will help make the fandom transition a smooth one.
Sure, the focus of play is on the field. It is Opening Day! Excitement is in the air, and it is the best time of year once again. But there is reason to see the Marlins Man as another source of potential excitement around the league. The active rosters might be set, but the battle for fandom is just starting.