Milwaukee Brewers: Jacob Nottingham Gets The Call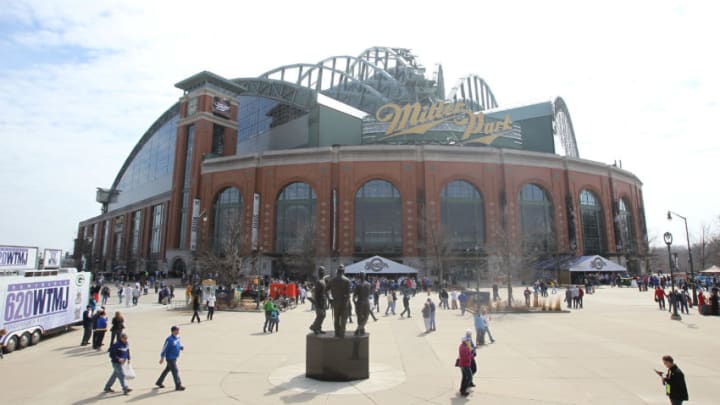 MILWAUKEE, WI - APRIL 06: General view as fans arrive to Miller Park before the start of Opening Day between the Colorado Rockies and the Milwaukee Brewers on April 06, 2015 in Milwaukee, Wisconsin. (Photo by Mike McGinnis/Getty Images) /
The Milwaukee Brewers have called up Jacob Nottingham.
This is in response to all of the injuries so far this season. Nottingham is the Milwaukee Brewers number 27 prospect according to MLB Pipeline. His bat came alive early this year, and he deserves the call-up.
Nottingham's Performance
Through eight games, Nottingham is hitting just under .300. This is coming off of his busiest Spring Training as well. It will be his first taste of the majors, but keep in mind that he was batting in Colorado through the early part of the season. It probably helped considering the struggles he saw in Double A the last two years.
Why Nottingham?
It would seem as if the corresponding move is to put Manny Pina on the DL. After all, why else call up a catcher when Ji-Man Choi can fill in at first base? With Eric Thames ailing too, Nottingham's flexibility to add depth there helps as well.
The other catching option to call up is Christian Bethancourt, but he is not on the 40-man roster, which creates even more issues. So, whether it be earned or by circumstance Nottingham will wear a Milwaukee Brewers uniform. That being said, it is earned.
What To Expect
Nottingham will provide depth at the ailing positions. With Jesus Aguilar as the only 100 percent healthy option at first, and Pina still hurting, one player will be able to back up both positions. It takes some of the pressure off of Hernan Perez playing all nine at once.
Catching is his primary position, and first is just something he can help out with. If they wanted a primary first baseman, the Milwaukee Brewers would have called up Choi. It is that simple. It is likely that Pina will serve a DL stint.
Next: Eric Thames Falls Victim To Injury Bug
His performance is up in the air, it is just fun to see prospects make their debuts. Nottingham has been working for this since 2013 when the Astros drafted him. He will be ready, and fans are ready too.