Milwaukee Brewers: Is Kodi Medeiros Too Good To Be True?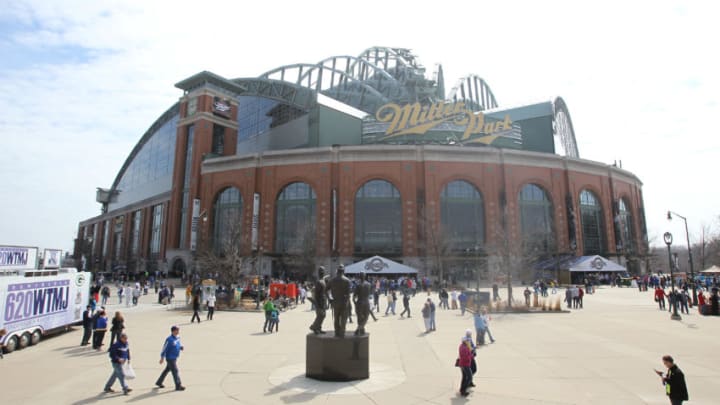 MILWAUKEE, WI - APRIL 06: General view as fans arrive to Miller Park before the start of Opening Day between the Colorado Rockies and the Milwaukee Brewers on April 06, 2015 in Milwaukee, Wisconsin. (Photo by Mike McGinnis/Getty Images) /
The Milwaukee Brewers first round selection back in 2014 is finally starting to look like a first rounder.
Kodi Medeiros was a recent high school graduate when the Milwaukee Brewers took him. The learning curve finally seems to be coming around for him. He had been getting gradually better each year. But this year, it's like he is a completely different pitcher.
After two years of struggles in Carolina, Medeiros is lights out so far for the Double A affiliate. It almost defies logic that his performance is this much better at a higher level. Not impossible, by any means, but weird. So, can Medeiros keep it up?
Past Performance
There has really only been one year prior to 2018 that can be considered decent. Medeiros posted an FIP under three, and a K/9 above nine back in 2015. Other than that, there is not too much to write home about. That is not to say there have not been improvements. His numbers show clear signs of that.
During his two years in Carolina, his lowest ERA was a 4.98. There was one year where his K/9 and BB/9 were essentially identical at six. It was clearly a struggle.
2018
Something clicked in a big way. In three appearances, one start, Medeiros has an ERA under one. Opposing batters are hitting .171 against him so far this year. The early returns in 2018 are good. That being said he is 15 innings into the year. Obviously, he is not going keep this pace up for a whole season.
Is This Too Good To Be True?
Long term, probably. The peripherals do not look in his favor. An FIP of 3.94 and a BB/9 of six makes things look pretty bleak going forward. However, if he just lowers his walks, then he can continue to have a phenomenal season. The thing is that hitters are not hitting him, that means he is fooling guys. So, if he does not give unnecessary free passes, he will be fine.
Next: Could Mauricio Dubon Get Called Up Soon?
That is not some massive revelation, it is something that Medeiros is no doubt working on. In his three appearances he went five innings each, walking three in two of the games and four in one. Walks have been a killer throughout his career. The answer to the question is that this does not have to be a fluke. Medeiros is extremely talented. But his walks will eventually bite him.