Milwaukee Brewers: Carolina Mudcats 2018 Review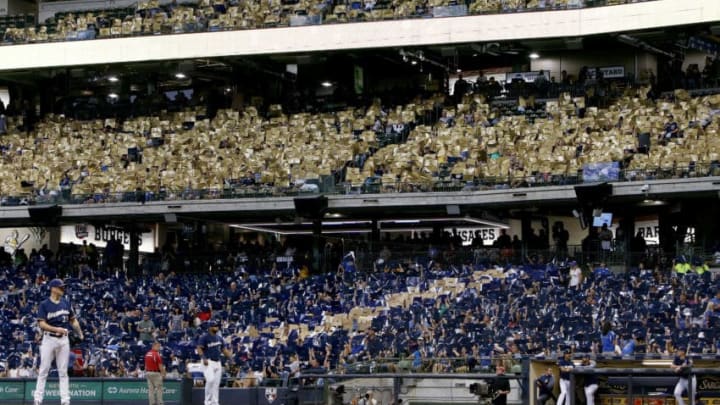 MILWAUKEE, WI - SEPTEMBER 15: Fans perform a card stunt to raise awareness and inspire action for childhood cancer initiatives as a part of Childhood Cancer Awareness Month during the game between the Milwaukee Brewers and Pittsburgh Pirates at Miller Park on September 15, 2018 in Milwaukee, Wisconsin. (Photo by Dylan Buell/Getty Images) /
We've reviewed the 2018 performances of the Triple-A and Double-A affiliates of the Milwaukee Brewers. Next up: the High-A Carolina Mudcats.
The Carolina Mudcats graduated a lot of top prospects to Double-A prior to the 2018 season. This is a good thing from a player development standpoint, but less than ideal for the team's performance. This showed in the Mudcats' record, as they finished 65-73 on the season and well out of first place in the standings. However, beyond the wins and losses, there were a lot of good developments out of the Milwaukee Brewers High-A club.
Carolina Mudcats Hitters
Arguably the Mudcats best player didn't even spend the whole season with the team. First-round draft pick Keston Hiura began the season with Carolina, thrashing pitchers to the tune of a .320/.382/.529 slash line. He tallied 26 extra-base hits, 23 RBI and 38 runs scored before earning a promotion to Double-A Biloxi.
With Hiura's departure, another player had to pick up the slack. That player wound up being Weston Wilson, a 17th-round draft pick back in 2016 out of Clemson. While he was a bit older than his average competition, he still showed promise. He led the team in home runs (13), RBI (62) and runs (60) while producing a .777 OPS. This breakout performance also earned him a call-up to Biloxi, as well as an invitation to the prestigious Arizona Fall League.
A few other names stood out as far as Carolina hitters go. Cooper Hummel only hit .260, but he led the team in doubles with 25 and also walked at an absurd 15.6-percent clip, boosting his OPS to .397. Max McDowell had his fair share of struggles at the plate (.620 OPS), but he's become an excellent defensive catcher. The UConn product got rave reviews from the Mudcats' pitching staff for his ability to call a game, and he threw out over half of would-be base stealers this past season between High-A and Double-A.
Luis Aviles Jr. only spent half the season with Carolina, but he still led the team in stolen bases with 16 in 20 attempts. Finally, the Mudcats had another top prospect in Demi Orimoloye. The Nigerian-born outfielder produced a .675 OPS before being dealt to the Blue Jays in order to make Curtis Granderson a Brewer.
Carolina Mudcats Pitchers
The Mudcats didn't have a ton of top prospects in their stable of arms. The team's top prospect pitcher was was Trey Supak, who made nine starts with the Mudcats and produced a 1.76 ERA and 1.04 WHIP before being promoted.
Despite the lack of prospect shine, other arms stood out as well. The most highly-regarded performance belonged to closer Luke Barker. He logged 20 saves on the season to go with a 2.21 ERA and a 63:16 K:BB in 61 innings of work. This helped him garner Carolina League Relief Pitcher of the Year honors.
Other hurlers also saw success in the Carolina League. Cameron Roegner didn't post flashy strikeout numbers, but he displayed good control and quietly put up a 2.16 ERA in 19 starts. Conor Harber shuttled between the rotation and bullpen and succeeded in both areas, producing a 2.26 ERA across 95.2 frames. Marcos Diplan started off the season as one of the top arms in the rotation, striking out nearly a batter per inning with a 3.52 ERA before also being promoted to Double-A.
One other name to look at is Miguel Sanchez. Although he's not a heralded prospect, he put up excellent strikeout numbers with the Mudcats before doing the same at Double-A and Triple-A. This got him a ticket to appear in the Arizona Fall League, as well. He's quietly turning himself into an impact reliever in the Brewers' system.
The standings didn't show it, but 2018 proved to be a good year for the Carolina Mudcats. Position players developed offensively and defensively. Pitchers turned their performances on the mound into promotions to higher levels of the minor leagues. All in all, it was everything the Milwaukee Brewers could have hoped for.