Milwaukee Brewers: Pitching Coach Derek Johnson Leaves Team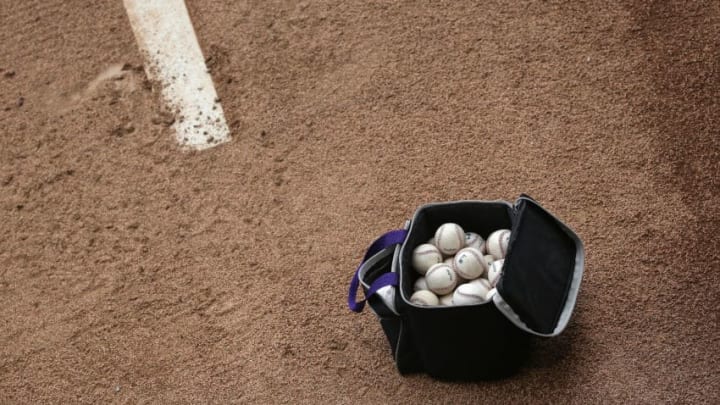 DENVER, CO - APRIL 25: A bag of baseballs sits on the mound in the bullpen as the Pittsburgh Pirates prepare to face the Colorado Rockies at Coors Field on April 25, 2016 in Denver, Colorado. (Photo by Doug Pensinger/Getty Images) /
In a shocking bit of news, the Milwaukee Brewers have lost pitching coach Derek Johnson to the Reds.
Ken Rosenthal just dropped this bombshell. Pitching guru Derek Johnson is leaving the Milwaukee Brewers to be the pitching coach for the Cincinnati Reds.
How big of a loss is this?
Huge. Derek Johnson was known as one of the best pitching coaches in baseball and he reformed several Brewers pitchers such as Jimmy Nelson, Chase Anderson, Jhoulys Chacin, and Wade Miley. It was because of him that the pitching staff was so successful.
Johnson has a lot of connections with successful pitchers throughout the league because of his previous work at Vanderbilt, one of the top college baseball programs in the country, known for churning out great pitchers.
The Brewers gave him his first opportunity as a big league pitching coach as an up-and-comer in the coaching ranks. Now he's on to bigger opportunities. The Reds are lucky to get(steal) him to take over their pitching staff. Cincinnati had one of the worst staffs in the league last year and he'll now take on the challenge of making them into a quality group.
Wasn't he under contract?
His contract details were not known, but it's been three years since his hire, and three year contracts are common for first time coaches.
His contract was up, and the Brewers were trying to negotiate a new deal with him to keep him on the staff. But the Reds called and likely offered him more money than the Brewers could, and he took it.
Based on what he did in his three years in Milwaukee, the Brewers should've quickly given him a big raise and tried to keep him here long term. But instead, the search will be on for a new pitching coach.
Any Potential Candidates?
Bullpen coach Lee Tunnell was already let go, so that's one internal option that's already off the table. Unless the Brewers promote one of their minor league pitching coaches, it will be an outside hire.
One internal option could be Chris Hook, the former pitching coach at Double-A Biloxi and current Brewers roving minor league pitching coordinator. Josh Hader and other pitchers have given him credit for helping get them to where they are.
After finishing one win away from the World Series, the Milwaukee Brewers will now need to replace their pitching coach, hitting coach, and bullpen coach.