Milwaukee Brewers: How did prospect Tristen Lutz do in 2018?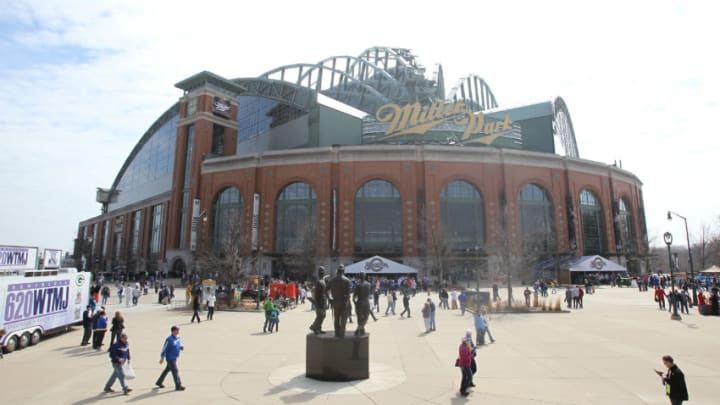 MILWAUKEE, WI - APRIL 06: General view as fans arrive to Miller Park before the start of Opening Day between the Colorado Rockies and the Milwaukee Brewers on April 06, 2015 in Milwaukee, Wisconsin. (Photo by Mike McGinnis/Getty Images) /
Milwaukee Brewers prospect Tristen Lutz enjoyed an impressive debut season in 2017. How did he follow up his first professional season, and where will he go in 2019?
Outfielder Tristen Lutz is currently rated as the fifth overall prospect in the Milwaukee Brewers system. He was drafted with the 34th overall pick in the 2017 draft, but coming out of high school, it was unknown how much the Brewers would let him play in his first year. He appeared in 40 games between the Arizona Brewers and the Helena Brewers, and managed a .957 OPS with nine homers and 27 RBIs.
Lutz started 2018 in Single-A, and spent the entire season there. Let's take a look at how he did.
How did Lutz perform at the plate?
Lutz didn't find Single-A as easy as Rookie-ball. In 119 games with the Wisconson Timber-Rattlers, Lutz posted a .245/.321/.421 slash line. He hit 33 doubles, 13 homers, and swiped nine bases in 12 attempts. He struck out at a 27.6% clip, while walking in 9.1% of his plate appearances.
Were there any troubling numbers from Lutz' 2018 season?
The strikeout totals are a little higher than expected, but the walk rate was higher than 2017. The only number that was really concerning was Lutz' line drive rate. He hit line drives over 20% of the time at both levels of Rookie-ball in 2017. In 2018, he only hit line drives at a 15.6% rate.
How did Lutz do in the field?
Lutz had spent most of his amateur career in center field, and spent 33 of 37 starts there in 2017. He spent time at all three positions, but it's clear that he's transitioning to right field. He made 68 appearances in right field in 2018, but saw action in 29 games in left, and 14 games in center. He made eight errors, but was credited with 11 assists.
Lutz is a solid athlete and a capable defender with a plus throwing arm. It's clear that the Milwaukee Brewers are starting to transition him into a corner role, and that's where he should spend most of 2019.
Where will Lutz go in 2019?
Given his struggles at the plate, it might make sense for Lutz to start 2019 back with the Timber-Rattlers, but he should get the call to High-A sooner rather than later.
Lutz' ceiling is sky high. He has power, but also has contact skills. He doesn't possess elite speed, but he's a capable base runner. He's a great athlete, but not all tools. Lutz won't turn 21 until next August, and still has a long way to go before he's playing every day with the Milwaukee Brewers, but his ceiling is still high, even if Single-A wasn't as easy as Rookie-ball.