Milwaukee Brewers: Is Kieran Lovegrove a possibility?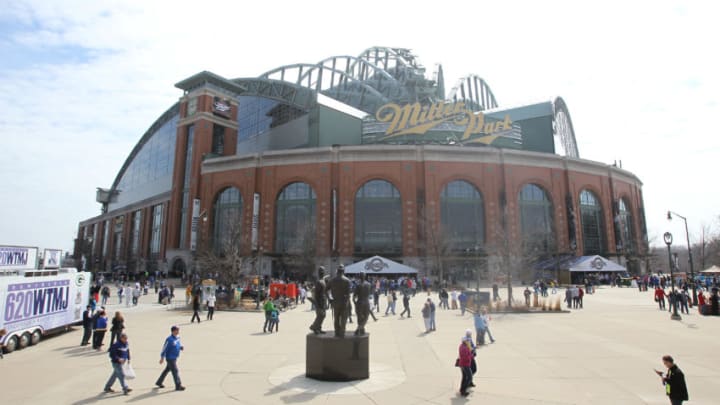 MILWAUKEE, WI - APRIL 06: General view as fans arrive to Miller Park before the start of Opening Day between the Colorado Rockies and the Milwaukee Brewers on April 06, 2015 in Milwaukee, Wisconsin. (Photo by Mike McGinnis/Getty Images) /
Cleveland Indians 24-year old right-hander Kieran Lovegrove spent seven seasons in the Minors, and chose to become a free agent about two weeks ago. Could he end up with the Milwaukee Brewers?
Kieran Lovegrove has spent the last seven seasons slowly climbing the ladder in the Cleveland Indians system. With seven years of service in the Minors, Lovegrove could elect to become a free agent, and sign with any team. The Milwaukee Brewers should give him a look, despite what Cespedes Family Barbeque thinks.
Where did Lovegrove come from?
Lovegrove was a 3rd round selection by the Cleveland Indians in the 2012 MLB amateur draft. He was born in Johannesburg, South Africa, but he attended Mission Viejo High School in California.
Was he a top prospect?
Top prospect? Probably not, but he is a 'real' prospect. If Lovegrove were in almost any other organization, he'd be rated in the Top-30, but he was with the Cleveland Indians. The Indians have an incredibly deep system, and that's why Lovegrove won't be found on a Top-30 list.
How as Lovegrove's 2018 season?
Really good! Lovegrove worked at three different levels, and posted a 2.73 ERA in 59 1/3 innings of work. He started the year in High-A, but ended the season with the Columbus Clippers in Triple-A.
Lovegrove worked 41 games, and managed 66 strikeouts, 31 walks, and only two homers surrendered. He also picked up three saves, and earned a 4-0 record.
How's he rated?
FanGraphs has him with a 60-rated fastball and changeup. His curveball and command require some development, but he's about as close to Major League-ready as it gets.
What kind of deal would he sign?
The Milwaukee Brewers would have to offer at least a seven-year deal worth about $116 million to get Lovegrove to sign. Joking. He'll probably end up with a Minor League contract with an invite to Spring Training. Lovegrove is more than likely looking for an opportunity to win a job in a bullpen. His agent might be able to negotiate a few extras, but he's never thrown above Triple-A, and has yet to spend a day on a Major League roster.
It's surprising that the Cleveland Indians couldn't find a spot on the 40-man roster for Lovegrove, but the Milwaukee Brewers can take advantage. The Brewers have had luck with Jesus Aguilar, Hernan Perez, and Junior Guerra as castoffs from other clubs. Lovegrove has the tools to succeed, but he's searching for an opportunity. The Brewers have shown a willingness to make moves in an effort to refine their bullpen, and Lovegrove could get the chance he's been looking for with Milwaukee. He won't break the budget, and he has real upside. The Brewers could make sense as a landing spot for him.