Milwaukee Brewers: Why did they sign Angel Perdomo?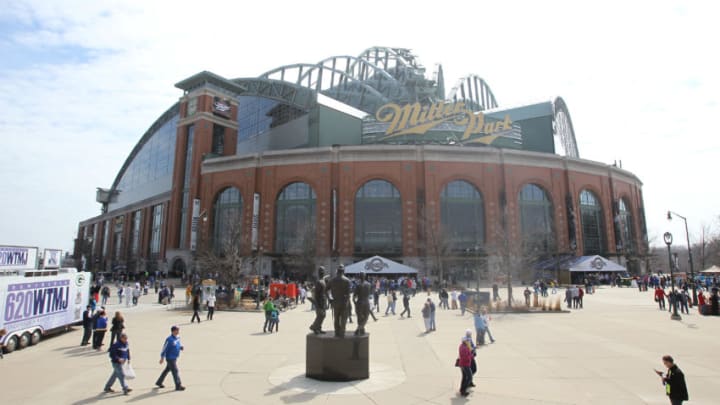 MILWAUKEE, WI - APRIL 06: General view as fans arrive to Miller Park before the start of Opening Day between the Colorado Rockies and the Milwaukee Brewers on April 06, 2015 in Milwaukee, Wisconsin. (Photo by Mike McGinnis/Getty Images) /
The Milwaukee Brewers signed left-hander Angel Perdomo to a Minor League contract with an invitation to Spring Training. Where did this guy come from?
Angel Perdomo signed with the Toronto Blue Jays out of the Dominican Republic in 2012. He has spent the last seven seasons trying to make his way out of the lower levels of the Blue Jays' system. Since he has seven years in the Minors, he elected to become a free agent, and the Milwaukee Brewers made an offer. Does Perdomo have any future value, or is he just a name on the roster?
What's the deal with Perdomo?
Perdomo just finished his age-24 season, and he's never been out of High-A, but it's not for lack of tools. Perdomo stands 6'6″, and weighs in at 200 lbs. He's also left-handed, and posted an 11.34 K/9 last year.
He spent all of 2018 in High-A, and posted a 3.63 ERA in 79 1/3 innings of work. He struck out 100, walked 35, and was tagged for five homers.
What does Perdomo throw?
Perdomo has a fastball that sits in the 87-to-93 MPH range, but he's never been able to develop his secondary pitches. His slider and change-up just haven't evolved into useful pitches.
Why are the Brewers interested in him?
Perdomo is 6'6″, and all limbs. He has a reasonably live fastball, but his development has stalled because of his lack of secondary stuff. The Milwaukee Brewers see him as a project who might have value if he can figure out how to repeat his delivery, and discovers a second pitch. He's young enough where he can still figure it out.
Perdomo is the definition of a 'lottery ticket'. If he crashes out, all he cost the Milwaukee Brewers was a Spring Training invite. If he works out, the Brewers might have another capable arm to work into a trade, or become a bullpen piece. It really depends on whether Perdomo can figure out how to use his frame more effectively, and develop his secondary stuff. While it's rare for guys like Perdomo to work out, every so often they do just that. Junior Guerra spent 10 years in the Minors and independent leagues before cracking a Major League roster. Manny Pina had a similar story. Why not Perdomo?