Milwaukee Brewers: Prospects Left Off the 40-Man Roster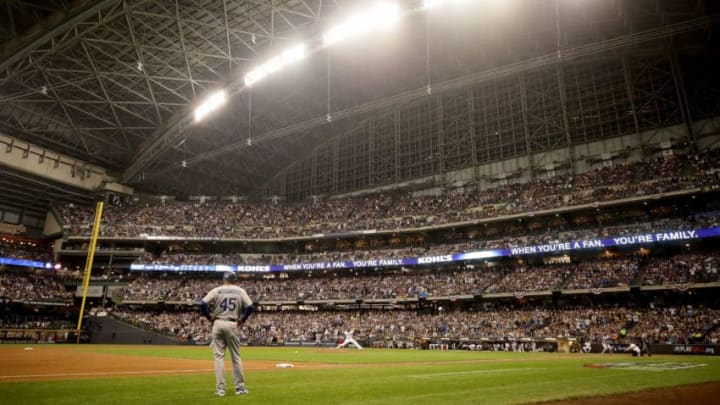 MILWAUKEE, WI - OCTOBER 19: Jeremy Jeffress #32 of the Milwaukee Brewers throws a pitch against the Los Angeles Dodgers in Game Six of the National League Championship Series at Miller Park on October 19, 2018 in Milwaukee, Wisconsin. (Photo by Jonathan Daniel/Getty Images) /
The Milwaukee Brewers were forced to leave some talented players off the 40-man roster at Tuesday's deadline. Is there a chance those players get taken by other clubs?
On Tuesday night, the deadline to add prospects to the 40-man roster in order to protect them from the Rule 5 draft passed. The Milwaukee Brewers, just like other teams, were active and sheltered a pair of their prospects from the Rule 5 draft.
However, there were a number of top prospects who weren't added to the 40-man roster. Some of these "snubs" had good seasons last season, but they also may have good reasons behind being left off. Could the Milwaukee Brewers lose any of these players who were left off the 40-man roster?
Prospect 1B Jake Gatewood
At #10 on MLB Pipeline's Top 30 Brewers prospects list, Jake Gatewood was the highest-ranked prospect to be left off the 40-man roster. Based off stats alone, this seems like a bit of a surprise. In 388 plate appearances for Double-A Biloxi this season, the former Competitive Balance A pick slashed .244/.302/.466 with 19 home runs and 59 RBI. He also displayed improved defense at first base.
Why was he left off the 40-man roster, then? The biggest reason is likely that he tore the ACL in his left knee back in July. The hope is that he will be ready for baseball activity by the time spring training comes around, though things are still very much up in the air.
As such, the Brewers may have left him off the 40-man since it would be very risky to force a player coming off a major injury to play in the majors. Teams may be less willing to take a chance on a player who has missed a lot of time already.
That said, an argument could be made for a team to draft him in the Rule 5 draft and stash him on the disabled list for a while. Then, he could pose as a right-handed power bat off the bench for the rest of the season. I'm not so sure a team will take that risk, but it's a possibility.
Prospect RHP Cody Ponce
Cody Ponce is the next-best prospect in MLB Pipeline's rankings to be left unprotected. The former 2nd-round pick had a fantastic 2017 campaign, but seemingly took a step backward in 2018. His ERA inflated to 4.36, and his walk rate increased to 3.2 BB/9 across 95 innings of work. He also was moved to the bullpen for part of the season.
Ponce's former prospect shine could garner some interest in the Rule 5 draft. However, the recent struggles make that a bit less likely. His arsenal is more suited to work as a starter, especially with his focus on good control. It's easy to look at the prospect rankings and say he's a clear pick to be taken by another team, but I think there are a number of signs pointing toward the contrary.
Prospect RHP Carlos Herrera
The final player from the Brewers' Top 30 prospects list to be left off is Carlos Herrera. The right-hander repeated Class-A this past season with worsening results. He posted a 5.67 ERA and a rough 60:48 K:BB in 85 2/3 innings pitched. He also transitioned partly to being a bullpen arm.
The big reason Herrera is considered a top prospect is because of how physically projectable he is. With that in mind, it's hard to foresee him getting taken in the Rule 5 draft. It's tough for a player to develop in the major leagues – that's what the minor leagues are for. A big-league team could stash him in the bullpen all season, but his control struggles and incomplete development tell me he wouldn't be able to last the whole season in the majors.
Other Prospects Left Unprotected
The Brewers have a whole host of other players who are eligible to be taken in the Rule 5 draft. Some of the bigger names include RHP Bubba Derby, RHP Jon Olczak, RHP Nate Griep, RHP Phil Bickford, LHP Quintin-Torres Costa, LHP Nathan Kirby, OF Joantgel Segovia and INF Tucker Neuhaus.
Of these players, Derby could get taken simply because of how close he is to the big leagues. He doesn't pose as an impactful major-league starter, but he could provide quality innings for a team in 2019 if they selected him. Olczak is another name to watch as the draft approaches. He reached Double-A this past season and has put up strong strikeout numbers at each stop in the minors.
All in all, the Brewers have a lot of prospects who were unable to be protected. This is a good problem to have, as it means that there are enough quality contributors close to the big leagues to warrant a 40-man roster spot.
The Milwaukee Brewers may or may not lose a player or two in the Rule 5 draft, but there is still plenty to be excited about when it comes to the future of this organization.