Milwaukee Brewers Top Prospects List: #10 LHP Aaron Ashby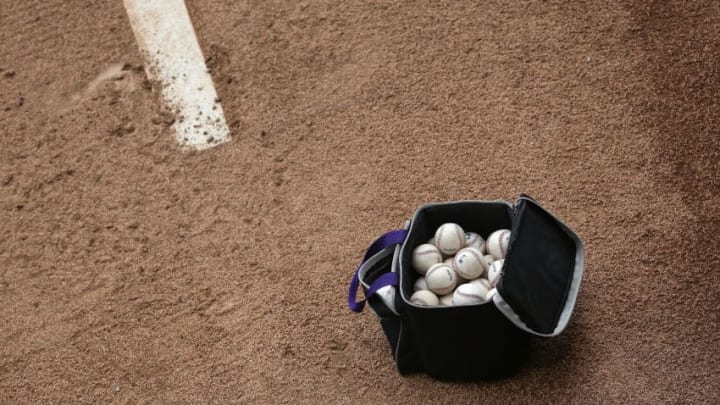 DENVER, CO - APRIL 25: A bag of baseballs sits on the mound in the bullpen as the Pittsburgh Pirates prepare to face the Colorado Rockies at Coors Field on April 25, 2016 in Denver, Colorado. (Photo by Doug Pensinger/Getty Images) /
Our Milwaukee Brewers 2019 Top Prospects List continues. After crunching numbers 11-15, we've reached the Top 10.
Coming in at number 10 for Reviewing the Brew's Top Milwaukee Brewers Prospects list, is a recent 2018 MLB Draft pick, left handed pitcher Aaron Ashby.
Ashby was selected in the fourth round in the 2018 Draft, and is shooting up our prospect board. This is a pitcher the Brewers like a lot and he has a bright future ahead of him.
#10. LHP Aaron Ashby
Here at Reviewing the Brew, we're big fans of Aaron Ashby and we think he's going to end up being an absolute steal out of the fourth round. The last time the Brewers drafted someone in the 4th round we liked this much, they took Corbin Burnes in 2016. That's worked out pretty well so far.
Ashby is a southpaw, which is a rare find in this Brewers organization. They've dealt with a dearth of left handed pitching in the organization for years now, and they still lack depth at this crucial position. But signing Ashby is a great step in the right direction.
Ashby sits in the low-mid 90s, so he doesn't have overpowering velocity, but he has a deceptive delivery that keeps hitters off balance and makes 93 MPH look like 97 MPH. He also possesses a wicked curveball that he gets a lot of strikeouts on.
Last year, in 13 games covering 57.2 innings, Ashby struck out 66 batters en route to a 3.59 ERA. In Low-A Wisconsin, Ashby posted a 2.17 ERA in seven starts.
More from Brewers Prospects
He also throws a changeup that he needs to use more often, but he can throw a different variation of his curveball to make it more like a slider, which could give him four pitches to work with at his best.
As long as Ashby continues to work on his command and keeping the ball in the strike zone, he can move up the organizational ladder fairly quickly.
When Could We See Ashby In Milwaukee?
Considering Ashby is just 20 years old and was drafted last June, it might be a little bit before he reaches the majors. He made seven starts with the Low-A Timber Rattlers last year and it wouldn't surprise me to see him start 2019 in Appleton.
If all goes well, he could be in Carolina with the High-A Mudcats before the season is over.
But as far as Milwaukee goes, Ashby won't be in a Milwaukee Brewers uniform until at least the 2021 season. While he could very easily succeed in the lower levels and earn quick promotions like Corbin Burnes, Ashby has a little more work to do with his command.
It's a high ceiling for Aaron Ashby, and we think he's going to reach it and become a quality piece in a future Brewers starting rotation, and he lands in the Top 10 of our Brewers prospect list.
The Milwaukee Brewers need more lefties like Aaron Ashby in their organization. He's got the stuff to succeed on the mound, and he throws with his left hand, making him all the more valuable to the club.