Milwaukee Brewers: 5 Reasons Why The Pitch Clock Is A Bad Idea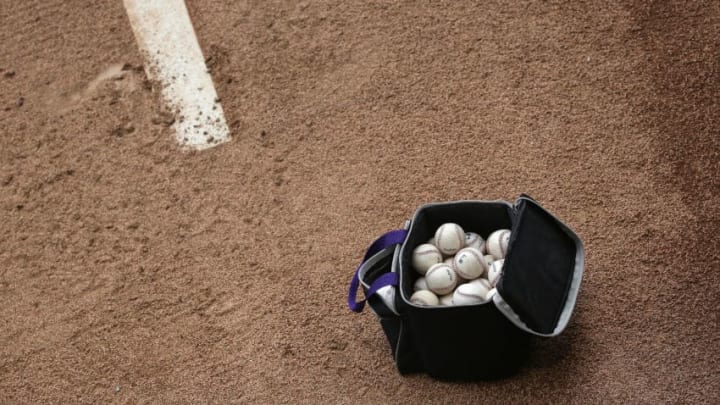 DENVER, CO - APRIL 25: A bag of baseballs sits on the mound in the bullpen as the Pittsburgh Pirates prepare to face the Colorado Rockies at Coors Field on April 25, 2016 in Denver, Colorado. (Photo by Doug Pensinger/Getty Images) /
NEW YORK, NY – APRIL 11: A clock used to time pitching changes runs in left field as the Boston Red Sox face the New York Yankees at Yankee Stadium on April 11, 2015 in the Bronx borough of New York City. (Photo by Jeff Zelevansky/Getty Images) /
Major League Baseball is giving a trial run for a 20 second pitch clock in Spring Training. It could possibly be implemented in time for the 2019 regular season.
In MLB's mad desire to quicken the pace of play, they have begun the process of installing a pitch clock against the wishes of the Player's Association. This would be a mistake of epic proportions from Commissioner Rob Manfred. The pitch clock is the exact opposite of what baseball needs.
I know that he's worried about games taking longer to finish and a lot of other people are too. But a pitch clock is not the way to go. It will not grow the game, it will not make baseball appeal to the younger generation like they claim they're trying to do. I'm a part of this younger generation that MLB is trying to get to enjoy baseball. Making the game faster and adding a clock on to the only professional sport that doesn't have one, is a bad idea.
The pitch clock will be implemented in Spring Training in 2019. MLB holds the right to unilaterally implement the clock for the 2019 regular season. Manfred wants the MLBPA to approve of the idea, but the players are universally against this.
With tensions already high between the player's union and the Commissioner's office, putting this into the game would only make that worse.
There are several reasons why the pitch clock is the wrong way to go for baseball.
Reason #1: It's unrealistic
A 20 second clock is in no way, shape, or form, a realistic amount of time for every pitcher in baseball to adhere to. Out of all of the 57 qualified starting pitchers in MLB in 2018, not a single one of them averaged less than 20 seconds in between pitches. None of them. Some were close. Mike Foltynewicz of the Braves averaged 20.5 seconds between pitches. But not a single qualified starting pitcher averaged less than 20 seconds between pitches.
Of all pitchers that threw at least 50 innings last year, only three actually averaged less than 20 seconds between pitches. There were 336 pitchers with 50 innings and only three were able to accomplish this task of a 20 second clock. Milwaukee Brewers starter Brent Suter actually led the league with an average of 18.6 seconds between pitches. It seems to everyone that he's going at lightning pace but he's only a second and a half ahead of the clock.
The other two, Steven Matz and Wade Miley, averaged between 19 and 20 seconds between pitches. That is the entire list of pitchers in baseball who pitch at a pace that MLB is now requiring. This is simply an unrealistic number for many to attain.
The vast majority of Brewers pitchers averaged between 22 and 26 seconds between pitches. Brent Suter went the fastest, averaging 18.6 seconds between pitches. The pitch clock would be a major adjustment for Jacob Barnes, who averaged 29.1 seconds between pitches, the highest on the Milwaukee Brewers.
There are a lot of things that happen on the mound that few fans understand. They only see pitchers walking around the mound, adjusting their hats, playing with their glove, the rosin bag, etc. and just seemingly taking their sweet time. All of that has a purpose.
When pitchers are doing that, their mind is racing, with thoughts like "Should I throw a curveball here, or try to set him up with a high fastball", "He won't be expecting a slider here", "That should've been called a strike, now I'm behind, now what?" "He's probably expecting a changeup, I need to go fastball, should I go inside or outside", and it's a conversation with yourself on the mound. They're trying to figure out what they want to do next. All of those seemingly nervous ticks and time wasters have a purpose.
This doesn't only affect pitchers. It affects hitters too. Hitters use the time in between pitches to guess what's coming next. It may look like they're just adjusting their batting gloves or practice swings or tugging their sleeves, but they're thinking to themselves too. They're thinking things like "He just went fastball, now he's probably going to go curveball", "Last one was inside, now will he go inside again or try to pitch outside", "If it starts low, lay off, it's going in the dirt". Most of the time, hitters are guessing what's coming from the pitcher. When they guess right, they get base hits. When they guess wrong, they look foolish and strike out.
Pitcher vs. Hitter is more of a mental battle than it is a physical one. Each side is playing mind games with the other. Pitchers make pitches to set up hitters into believing a certain pitch is coming all the time, and then they throw the exact opposite of what they made the hitter believe. The legend, Yogi Berra, once said "Baseball is 90% mental, and the other half is physical", and it couldn't be more true. As a catcher, Yogi knew all about the mind games that pitchers played on hitters. Yes, physically throwing and hitting the ball is half the battle, but a majority of the battle, let's say 90%, comes from mental preparation.
Pitching is an art form. Hitting is an art form. And you know what they say about art? YOU CAN'T RUSH IT! The pitch clock will only diminish the product on the field. Pitchers will be forced to rush through their thought process, giving flawed results and the hitters won't be mentally ready for the pitch and a result will have less success. This can lead to nothing other than sloppier gameplay.