Milwaukee Brewers: 5 Reasons Why The Pitch Clock Is A Bad Idea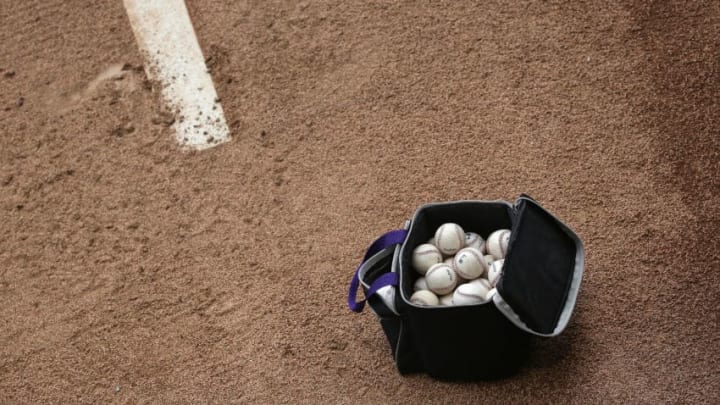 DENVER, CO - APRIL 25: A bag of baseballs sits on the mound in the bullpen as the Pittsburgh Pirates prepare to face the Colorado Rockies at Coors Field on April 25, 2016 in Denver, Colorado. (Photo by Doug Pensinger/Getty Images) /
MILWAUKEE, WI – JUNE 27: Brent Suter #35 of the Milwaukee Brewers is examined after diving to field a ground ball in the fifth inning against the Kansas City Royals at Miller Park on June 27, 2018 in Milwaukee, Wisconsin. (Photo by Dylan Buell/Getty Images) /
Reason #2: It increases risk of injury to players
According to a recent study by McMaster University, pitchers are statistically more likely to suffer arm fatigue if held to the 20 second pitch clock. The arm needs a certain amount of time to recover from a throw before it is ready to throw again. Reducing this recovery time leads to arm fatigue, especially in the elbow, making the pitcher more susceptible to UCL tears.
Brent Suter has led MLB in the quickest pace between pitches for the past couple years. And in July 2018, Suter went down with, you guessed it, a UCL tear. He needed Tommy John surgery and now will miss most, if not all, of 2019.
Baseball has already been suffering through an epidemic of Tommy John surgeries and has been working hard to fix that problem. Part of it deals with players being overworked as kids and it has a long-term effect on the players as they move up to professional baseball. Pitch counts in youth baseball is a great step to cutting down on these injuries in the future.
But Manfred is now speaking out of both sides of his mouth. He's put in all this work to cut down on pitcher injuries, but now he wants to enforce a pitch clock, giving pitchers' arms less time to recover, giving them a higher chance of injury. It's hypocritical!
Fangraphs did some research on the topic as well. They found that relievers are especially susceptible to arm fatigue in a pitch clock game. They go all out 100% on every pitch because they generally only pitch one inning in a game. Starters have to pace themselves, but relievers have been more likely to get injured regardless. With a pitch clock, that risk increases significantly. And with relievers receiving record paydays this year, it's now a big gamble for MLB GM's to sign any of them. The bullpen has a newfound importance in today's game and the pitch clock rule hurts relievers.
This rule is not in the best interest of the players. Pitchers are injured way too often and Tommy John surgeries have been on the rise for the past several years. The last thing MLB should want to do is make a rule that increases the likelihood of arm injuries.