Milwaukee Brewers: 5 Reasons Why The Pitch Clock Is A Bad Idea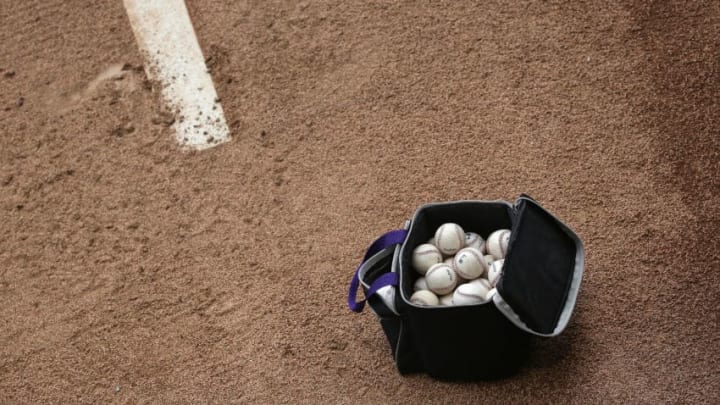 DENVER, CO - APRIL 25: A bag of baseballs sits on the mound in the bullpen as the Pittsburgh Pirates prepare to face the Colorado Rockies at Coors Field on April 25, 2016 in Denver, Colorado. (Photo by Doug Pensinger/Getty Images) /
ST. LOUIS, MO – JUNE 13: Umpire Chris Segal #96 meets with the rest of the officiating crew prior to a game between the St. Louis Cardinals and the San Diego Padres at Busch Stadium on June 13, 2018 in St. Louis, Missouri. (Photo by Dilip Vishwanat/Getty Images) /
Reason #3: Players will find a way around it
Considering this pitch clock will force the players to rush through their routine, they will find loopholes to get around the 20 second clock. It's inevitable. Hitters were finding loopholes around the pace of play initiatives a few years ago about staying in the batter's box. They still took the same amount of time between pitches doing their routine.
The easiest loophole I can see being exploited is a hitter calling timeout. They can get in the box and look ready and as soon as there's two seconds or so on the pitch clock, they call time. As long as the pitcher hasn't started his motion, the umpire will grant time. Then what happens? Does the clock stop? Does the clock reset? Either way, it will take more than 20 seconds until the next pitch. Unless MLB will stop allowing players to call for time, which will cause a riot amongst players, that's what's going to happen.
If a hitter feels like he's being rushed, he's going to call timeout. Milwaukee Brewers fans have seen that happen to Brent Suter time and time again. He's ready to throw the next pitch too quickly, and the hitter, caught off-guard, calls timeout to throw off Suter's rhythm.
Catchers will call time as well. If they don't feel like they know what they want to call or their pitcher isn't ready and shakes off all the signs, they'll call timeout. The umpire will grant the catcher time and we have the same issue all over again. The clock may stop or reset, either way, it will take longer than 20 seconds between pitches.
And the players can do this all game long, and it will slow the pace of the game to a crawl. The players will stick it to the Commissioner that way. Fans will get upset that everyone is calling time and the game will slow down because of it but it's a better way for the players to protest than calling for a strike and bringing baseball to a complete stop. And that may be where we're headed if Manfred makes more unilateral changes.