Milwaukee Brewers: 5 Reasons Why The Pitch Clock Is A Bad Idea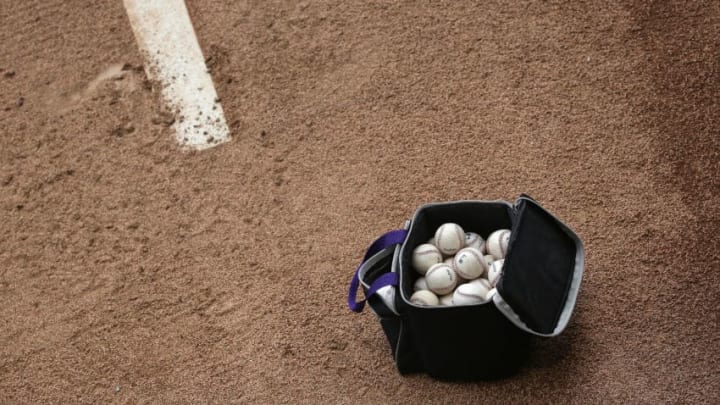 DENVER, CO - APRIL 25: A bag of baseballs sits on the mound in the bullpen as the Pittsburgh Pirates prepare to face the Colorado Rockies at Coors Field on April 25, 2016 in Denver, Colorado. (Photo by Doug Pensinger/Getty Images) /
MILWAUKEE, WI – OCTOBER 20: Josh Hader #71 and Erik Kratz #15 of the Milwaukee Brewers talk during the fifth inning against the Los Angeles Dodgers in Game Seven of the National League Championship Series at Miller Park on October 20, 2018 in Milwaukee, Wisconsin. (Photo by Stacy Revere/Getty Images) /
Reason #4: Let the Players Do Their Job
MLB needs to realize their players are professionals and are the best at what they do. If they're getting paid to be the best and we, the fans, are paying to see them, shouldn't we want them to do their job in the best way they see fit.
Wouldn't you rather give the players the extra four seconds to come up with the right pitch selection? Clayton Kershaw is getting paid $31 million next season. I'd rather wait the extra four seconds to see him pitch at his best instead of rushing him through and getting flawed results. If he gives up a lot of runs then that's fine, let it be from his own mistakes, and not from MLB's mistake of pushing a countdown clock on him, forcing him to rush.
This is a player's job. It's their whole career. It's their livelihood. Imagine at your own job, you have to finish a report or something similar, by a certain deadline. Your boss is hounding you to get that report done. Would you rather take some extra time to ensure you have everything right? Or would you want to rush through that process, turn in the report, and find out, there is a major typo in the first sentence, and then have your boss get upset with you?
It's the same way. Imagine these rookies and other players that are just trying to prove they belong. They have the clock winding down on them and it forces a quick decision that ends up being wrong because they weren't given the proper time to think. Then the players get viewed as ineffective and are sent to the minors or released. Would you want to be fired or demoted from your job because you weren't given an extra few seconds to make a decision? I don't think so. So why would we put these players in that situation.
Rushing through, as stated earlier, puts players at a higher injury risk. With those injuries, especially for non-star players, they could end up derailing a promising career. Look at Suter once again. Once he's ready to go again in 2020, is he going to have a rotation spot to come back to? Given the emergence of Corbin Burnes, Freddy Peralta, and Brandon Woodruff and the overall depth of healthy options the Milwaukee Brewers have, he probably won't have a spot.