Milwaukee Brewers: What To Watch For On Opening Day 2019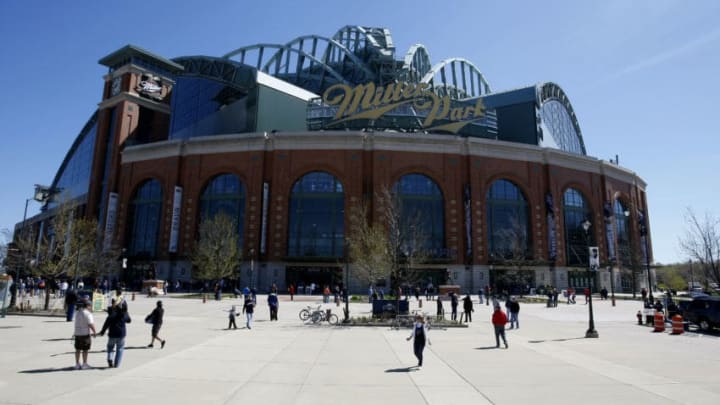 MILWAUKEE, WI - APRIL 06: A general view of Miller Park on Opening Day before the St. Louis Cardinals play against the Milwaukee Brewers on April 06, 2012 in Milwaukee, Wisconsin. (Photo by Mike McGinnis/Getty Images) /
Get excited Brewers' fans because Opening Day is literally three days away!  We open the season at home in front of the best fans in Major League Baseball and the Milwaukee Brewers will be facing one of our division rivals, the St. Louis Cardinals.
Here's a "what to watch for" as we prepare for the Game 1 of the 2019 season:
Starting Pitchers
Both teams have confirmed who will get the go on the first game of the season. On the bump for the Cardinals we will see the Milwaukee Brewers hitters go up against Miles Mikolas, who was pretty dominant for the Cardinals. He pitched in 32 games with a record of 18-4, a 2.83 ERA in 202 2/3 innings, 146 strikeouts, and a 1.07 WHIP. You could say that he was their ace.
The Milwaukee Brewers will put Jhoulys Chacin up against the Cardinals. Chacin did very well when called upon to pitch in some crucial games for Milwaukee last year. In 2018, he started in 35 games with a 15-8 record, a 3.50 ERA in 192 2/3 innings, 156 strikeouts, and a 1.16 WHIP. Chacin also was very productive in the 2018 Postseason for Milwaukee as well.
Look to see an absolute gem of a game with these two pitchers on the mound. Hopefully we can see the Brewer bats get the best of Mikolas, and pick up the win for Chacin.
Batting Order
Not knowing which batters will be stepping up to the plate for St. Louis, it's hard to compare the two batting orders, but it is possible to predict the batting order for the Brewers:
Jhoulys Chacin
You may notice that Ryan Braun's name was not in the batting order. The reason being is that Gamel is a left-handed batter. The Milwaukee Brewers will need more lefties in the lineup to go up against a right-handed pitcher. We may see Braun come into the game in the later innings as a result of a double-switch or pinch-hit situation.
Some other notes are that newly acquired catcher Grandal will be making his Brewers debut in front of the Milwaukee faithful. More than likely, Grandal will bat behind Moustakas in the batting order to get on base for the bottom to try and supply some runs.
The St. Louis Cardinals have added the power and veteran approach of Paul Goldschmidt in the off season. That adds to an already power heavy lineup that includes Marcell Ozuna, Yadier Molina, Harrison Bader, Tyler O'Neill, Dexter Fowler and Matt Carpenter.
Both teams have serious fire power and they won't be afraid to let it fly.
Brewers' Bullpen
It is well known that we will not see any appearances from pitchers Corey Knebel, Jimmy Nelson or Jeremy Jeffress on Thursday but it is a possibility that we could see the electric stuff from Josh Hader if there's a situation where he will need to shut the door…or maybe bring him just for fun.  You never know when it comes to Craig Counsell.
More Info
First pitch of Game 1 will be 2:10 PM ET for this fan in Indiana but that will be 1:10 PM CT for all of the fine fans in Wisconsin. Also, game time weather as of right now looks like a high of 54 degrees and partly cloudy, so look for the roof to be open and the sun to be shining! The game will be broadcast live on Fox Sports Wisconsin and what the tailgaters outside of Miller Park will be listening to is 620 WTMJ as the legendary Bob Uecker and Jeff Levering will be on the call to bring you Brewers' baseball if cannot watch the game.
It's shaping up to be a great game between two division rivals and we could not be more excited.  We hope to see you rowdy bunch fans early in the parking lot, we hope to see the famous sausage race in the seventh inning stretch after fans sing "Roll Out The Barrel" Let's also hope that we see Bernie go down the slide more than once. The Milwaukee Brewers' 2019 World Series run starts now!  Let's Goooooooooooo!