Milwaukee Brewers: Outlook for Yasmani Grandal/Manny Pina Duo at Catcher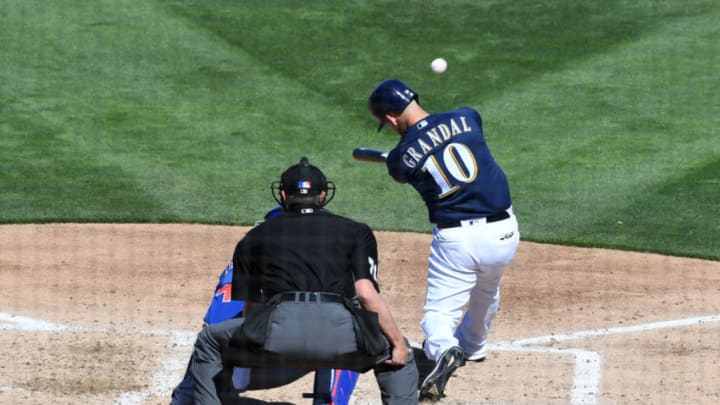 PHOENIX, ARIZONA - MARCH 10: Yasmani Grandal #10 of the Milwaukee Brewers doubles in a run during the third inning of a spring training game against the Chicago Cubs at Maryvale Baseball Park on March 10, 2019 in Phoenix, Arizona. (Photo by Norm Hall/Getty Images) /
The Milwaukee Brewers made a big signing at a position of need this offseason when they got former Dodgers catcher Yasmani Grandal on a one year contract worth 16 million dollars. They have since traded away veteran Erik Kratz, but have kept Manny Pina to pair with Grandal.
Many remember the struggles Yasmani Grandal had in last year's postseason, but despite that, he is a great player and fit for this Milwaukee Brewers team. He is known much more for his bat than his defense, and that's what earned him his money, but he's definitely not a slouch on the defensive end.
In terms of his counterpart, Manny Pina has had some big moments for this team the last two seasons and has shown his talents well, but his offensive struggles last season became evident down the stretch. His elite defensive abilities, however, will remain a huge asset to this team.
The man they call 'Manny Pineapple' became a bit of a fan favorite with his high energy personality, cannon for an arm from the catcher spot, and his big home runs in late game situations, such as the Mother's day comeback against the Mets back in 2017.
Unfortunately, more of the offensive moments for him were left in the 2017 season and didn't transfer over, and while Erik Kratz gave boosts at times, including the playoffs, there was a clear need for a boost, and that's where Grandal comes in.
2019 Season Outlook
As a switch hitter, Grandal fits into the lineup perfectly, helping to balance the lefties and righties. His .815 OPS and 24 home runs (led all NL catchers) will also give a big power upgrade in the 6th or 7th spot in the lineup.
Pina had just a .702 OPS last season along with nine home runs, and even with some success from Kratz, there just wasn't any offensive production from the catcher position in 2018 that compared to what Grandal was giving the Dodgers, and what he will give the Brewers in 2019.
Another reason Grandal is an effective signing for the Brewers is the transition from Dodger stadium to Miller Park for Grandal. While he is a switch hitter, a lot of his power comes from the left side, and as we saw last season with lefty Christian Yelich's transition from Marlins Park, the hitter-friendly park can have a huge impact.
Dodger Stadium is not quite as bad as Marlins Park in terms of pitcher-friendly ballparks, but you still really gotta get it all to hit it out. Grandal will more than likely get a few home runs this season that he would not have got at Dodger stadium, and just the hitter-friendly environment at Miller Park tends to boost confidence and naturally provide better power numbers.
Grandal's swing has already looked smooth and powerful this spring, including in the exhibition series down in Montreal against the Blue Jays. While he's better on his left, he has plenty of pop from the right side as well, as shown in this video posted by the team account.
But there is a reason that this is going to be a prominent catching duo, not just a one-man show. Manny Pina's defensive ability is unique, and something that most teams don't have. The Brewers will have both high level, and powerful offense, and elite defense from the catcher position, and they are probably the only team that can say that.
With Yadier Molina and his historic defensive ability still in the division, Manny Pina hasn't quite gotten the national attention for his defense, but he certainly has earned it, having quietly been a finalist for the NL Gold Glove award in 2018. This video below by MLB's Statcast shows just how good his arm is, but also how well his pop time is to allow himself to be in a position to make that throw.
Overall, the catcher position was one of the few holes for the Milwaukee Brewers NLCS team in 2018, and now that hole has been filled in a big way while keeping the same defensive ability from last year. The only thing to watch will be how Grandal responds to the playoffs if the Brewers do return.
He received a lot of scrutiny for the NLCS, and playoffs as a whole in his time in LA, so now coming to the team that he struggled mightily against with now even higher playoff aspirations, he will need to prove that he can come through in the playoffs.
Depth is a good thing at any position, but especially for a taxing position like catcher. Over the course of a long season, knees among other things can be fatigued, and if the Milwaukee Brewers have the ability to use two truly effective and unique catchers throughout the regular and potentially postseason, that is a big edge over teams with more one-dimensional catchers.