Milwaukee Brewers: 3 RHP Prospects To Know For The 2019 MLB Draft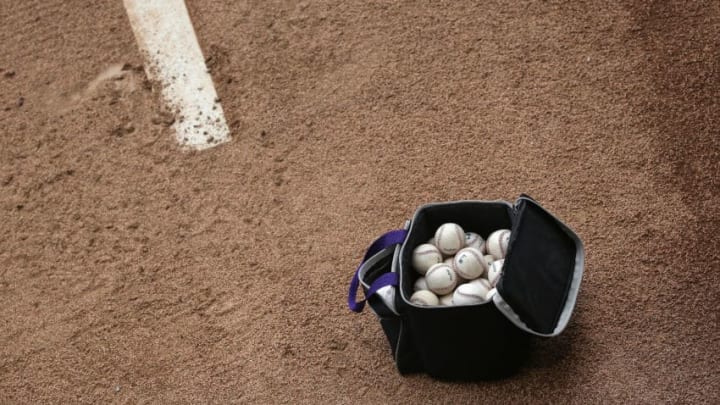 DENVER, CO - APRIL 25: A bag of baseballs sits on the mound in the bullpen as the Pittsburgh Pirates prepare to face the Colorado Rockies at Coors Field on April 25, 2016 in Denver, Colorado. (Photo by Doug Pensinger/Getty Images) /
The 2019 MLB Draft is less than a week away! We'll continue to profile some of the possible candidates for the Milwaukee Brewers first round selection at No. 28 overall.
"You can never have enough pitching" as the old saying goes. If you look at the Milwaukee Brewers big league club, you'll see that the saying holds true. However, if you look at the minor league system, the Crew has gotten a little thin on pitching prospects in the lower minors.
In the past four drafts, the Brewers have selected hitters with their first round selection, instead opting for arms later on in the draft. Could this be the year that changes?
With such a late first round pick this year, the Brewers aren't going to be getting any guarantees with any prospect they select, let alone a pitching prospect. But with every risk, there's a possible reward. For Milwaukee, that could mean selecting a high school pitcher, and that demographic has the highest risk and lowest guarantees of any group in the MLB Draft.
But there's still a ton of potential in these pitchers, and some could turn out to be great big leaguers. Let's take a look at three right-handed pitching prospects that could make sense for the Brewers in the first round.
Brennan Malone, RHP, IMG Academy (FL)
Malone features a big fastball and a wipeout slider in his arsenal. He also has a solid curveball and changeup, giving him a four-pitch mix with improving command. He's struggled with that command in the past, but he's made strides with it during the spring season and that's a big reason his draft stock has improved.
At 6'3″ and 203 pounds, Malone has an ideal starter's build and could continue to add muscle. His fastball already gets up to 96 MPH regularly and can keep that velocity through the late innings.
MLB Pipeline has Malone ranked as their 20th best draft prospect, meaning there's a decent chance that he may not even make it to the 28th overall pick for the Milwaukee Brewers to take him.
In Pipeline's latest mock draft, they said "The Brewers would love for an arm like Malone to get here". In that mock, Malone went a few picks before Milwaukee was on the clock, but this does point to interest on the Brewers part of selecting Malone.
If Malone has a mini-fall down the board on draft night, the Brewers could strike, landing the big righty with a big fastball.