Milwaukee Brewers: 3 RHP Prospects To Know For The 2019 MLB Draft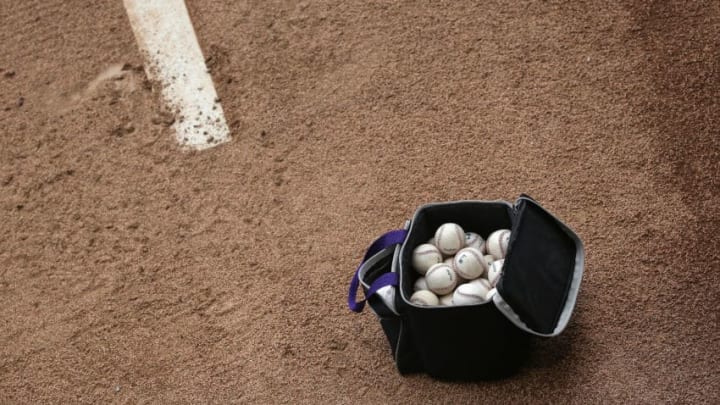 DENVER, CO - APRIL 25: A bag of baseballs sits on the mound in the bullpen as the Pittsburgh Pirates prepare to face the Colorado Rockies at Coors Field on April 25, 2016 in Denver, Colorado. (Photo by Doug Pensinger/Getty Images) /
DENVER, CO – APRIL 25: A bag of baseballs sits on the mound in the bullpen as the Pittsburgh Pirates prepare to face the Colorado Rockies at Coors Field on April 25, 2016 in Denver, Colorado. (Photo by Doug Pensinger/Getty Images) /
Seth Johnson, RHP, Campbell U
Johnson is an intriguing pitching prospect. He was a shortstop up until recently and just converted to the mound full time this spring.
And scouts liked what they saw.
Johnson was lighting up radar guns, throwing up to 98 MPH, sitting 91-95 with his fastball. His delivery appears effortless and he looks like a natural up on the mound despite this being his first full year on it.
He does has a plus slider to go along with that big fastball, and there's plenty of good break to it, but it's inconsistent and Johnson's command will need to improve. Johnson does have a four pitch mix, but his curveball and changeup will also need some work.
MLB Pipeline's 31st overall Draft prospect should still be on the board when the Milwaukee Brewers make the 28th overall selection. But would he be the best option on the board? That depends on how comfortable the Brewers are with Johnson's lack of experience on the mound.
Corbin Burnes, a 4th rounder a few years ago, didn't have much prior experience on the mound in college before the Brewers selected him, and he quickly became their top pitching prospect and is already in the big leagues. But that was a fourth round pick, not a first round pick, meaning the risk on Burnes was way lower than it would be with Johnson.
For a first rounder as a college pitcher, Johnson needs more polish than you would expect, and that's something that could turn teams away from him.
Righty pitchers are a dime a dozen in the MLB Draft, which means someone is going to have to stand out well above the crowd to be worthy of a first round selection. Johnson can touch 98 MPH with his fastball, which is great, but there's a lot more to work on for him to be a successful pitcher in the big leagues.
Of these three righties, I would say JJ Goss would be my preferred selection for the Milwaukee Brewers, given his highly projectable frame and tremendous upside.