Milwaukee Brewers: Organizational Needs To Address In The MLB Draft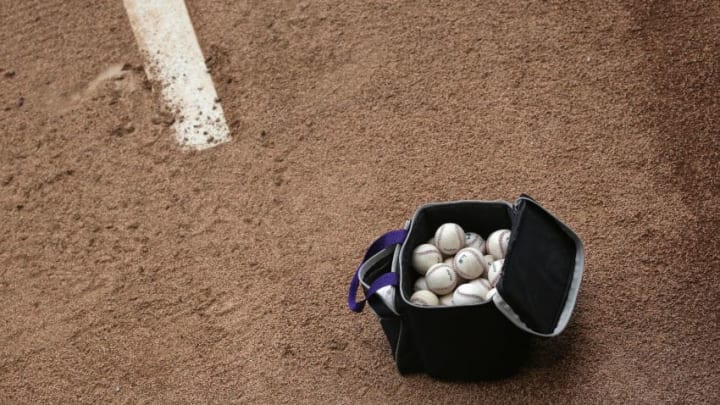 DENVER, CO - APRIL 25: A bag of baseballs sits on the mound in the bullpen as the Pittsburgh Pirates prepare to face the Colorado Rockies at Coors Field on April 25, 2016 in Denver, Colorado. (Photo by Doug Pensinger/Getty Images) /
The 2019 MLB Draft begins tonight! The Milwaukee Brewers hold the 28th overall selection in the first round.
When you watch the NFL Draft in late April, most people generally have a good idea about what kind of player a team will select, and what positions need to improve. When it comes to the MLB Draft, things are a little different. The Milwaukee Brewers won't be as predictable as a team like the Green Bay Packers on Draft night.
You don't draft for big league need in the MLB Draft. If you need a starting pitcher to add to your rotation in the big leagues that does not mean that you have to select a starting pitcher with your first selection.
The MLB Draft is a crapshoot. No one knows what these players will become in the big leagues, if they even get there at all. There is so much uncertainty about draft prospects that teams can't really draft for need and depend on the player to get there.
Even the fastest rising prospects are likely two years away from contributing at the big league level. Take Keston Hiura, who was the Crew's first rounder in 2017, as he took two years to make his big league debut, and second base wasn't as big a need then.
So what needs do the Milwaukee Brewers have to address in the draft since they can't just go off the current needs of their big league roster?
1. Blue Chip Talent
What an organization like the Brewers, and really any organization, needs most of all in the MLB Draft is more blue-chip talent. Find someone who you know can contribute to the big league team down the line and be a great player in this league. Blue-chippers are hard to get sometimes, and even the prospects with the highest guarantees and ceilings coming out of high school and college don't turn out.
The Brewers have graduated most of their blue-chippers in recent years. Orlando Arcia, Corbin Burnes, Brandon Woodruff, Josh Hader, and now Keston Hiura are all in the big leagues. While it's nice for that talent to be producing at the big league level, the farm system is now a little thin on that top level talent. For GM David Stearns' plan to keep the Brewers continuously competitive to work, he'll need prospects to take over some positions in the coming years.
At 28 overall, the Brewers aren't going to be getting a Top 10 talent falling into their laps this year most likely. If they're going to find a blue-chip prospect, it'll be someone with a ton of upside that presents a decent amount of risk to flame out in the minors. High school pitchers, for example, have very high ceilings but are the riskiest, and most volatile demographic in the Draft.
The Brewers are going to have to nail their early round selections, and having lost their Comp Round A pick and 3rd round pick, it's not going to be easy.
2. Left Handed Pitching
The Milwaukee Brewers are notoriously thin on left handed pitching throughout the organization, not just at the big league level. For whatever reason, they just haven't placed a high priority on getting left handed starters.
Here's a list of all the left-handed starting pitchers in the Brewers organization.
That's it, that's the whole list. From Rookie ball to the big leagues, that's it for left-handed starters.
It's a position I think they should address early and often. With a strong class of high school pitchers this year, there should be plenty of lefties to possibly add to the organization.
I cannot, for the life of me, figure out why the Milwaukee Brewers with all their analytics and numbers, haven't placed a bigger priority on getting left handed starters into the organization. It's something that will need to change.
3. Third Base
Third base is another position that the Brewers are pretty thin on throughout their organization. Of course at the big league level they have Mike Moustakas and Travis Shaw who are excellent (despite what some fans may think of Shaw right now). There's also Lucas Erceg, a top 10 prospect for the Brewers, at Triple-A.
But after Erceg the Brewers don't really have a third base prospect in their system. Erceg's hit tool has also taken a bit of a nosedive recently, and he may not be as much of a stud big leaguer as we once thought. Shaw is two and a half years from free agency without a contract extension in sight and there needs to be someone ready to take over if he leaves.
There are a couple of options at third base at the top of this draft, and it wouldn't surprise me if any one of them were the selections.
Most of the time, shortstops can get moved to third base and they become your next third base prospect, not guys who already started over at third.
The MLB Draft begins tonight, and the Brewers will have some later selections this year due to their success in 2018. We'll see if they address any of these needs early on.