Milwaukee Brewers: Just How Good Are Crew's Chances Against Washington?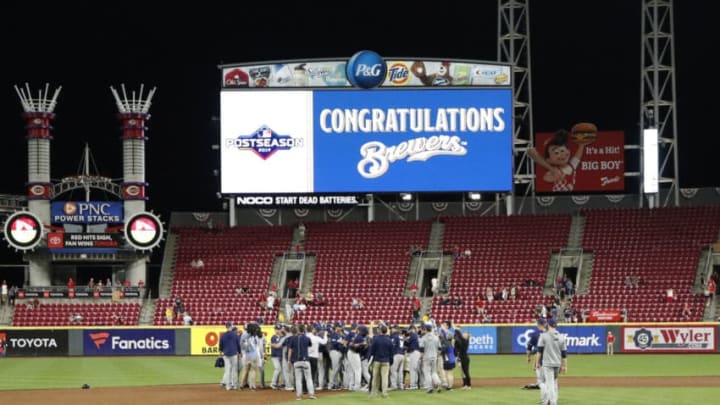 CINCINNATI, OH - SEPTEMBER 25: Milwaukee Brewers players celebrate after clinching a playoff berth following a 9-2 win over the Cincinnati Reds at Great American Ball Park on September 25, 2019 in Cincinnati, Ohio. (Photo by Joe Robbins/Getty Images) /
After suffering some tough losses to the Colorado Rockies (71-91) this past weekend, the Milwaukee Brewers fell just one game short of battling it out with the St. Louis Cardinals for the division title.
Going into the weekend, Milwaukee Brewers fans were confident that the Crew was going to take this series, given the Rockies' record. Sometimes, we're shooting our hopes too high. The team was on a roll, running on a hot streak, and that all came to a stop when they got into Coors Field and the atmosphere quite literally took over.
Due to the weekend sweep, the Brewers will now travel out to DC where they will face the Washington Nationals (93-69) to duke it out for the top Wild Card spot. The Crew had beat Washington in the last series, but since the Nationals won on Saturday, and the Brewers lost Sunday, home field advantage went to the Nationals.
With the Brewers losing Yelich, many thought they were just going to go downhill, crashing and burning, when, in fact, they did the exact opposite, winning 12 out of the first 14 games played without the MVP.
So, now what?
The Brewers announced that Brandon Woodruff would be starting for Tuesday night's wild card game, while the Nationals will have 'Mad Max' Scherzer starting up.
Woodruff is coming off of an oblique injury, which kept him out for two months. Upon his return, his first two outings, he was able to draw in two scoreless innings. Now, he only went two innings, but Counsell isn't wanting to work Woodruff too hard as it hasn't been long since Woodruff was cleared, and since he got the initial injury.
Woody on the mound is undeniably exceptional. In his 22 regular-season starts, he had a 3.63 ERA, and 143 strikeouts in the games he's pitched. Last year around this time, once the Brewers were heading into the NLDS, Woodruff pitched three scoreless innings, which helped the Brewers sweep the Rockies.
With him only being able to pitch a couple of innings, it is yet undetermined on who will be the relief for Woodruff for Tuesday's game. Some possible choices for relieving Woodruff on Tuesday could be Brent Suter, who is absolutely killing the game since his return from his Tommy John surgery. Getting quick 1-2-3 innings, Suter has definitely shown that he is back and better than ever.
Another consideration could be Drew Pomeranz, coming in from a trade with the San Francisco Giants, where the Brewers also inquired RHP Ray Black. As someone who struggled as a starter, Pomeranz as a reliever was a good decision made by the pitching staff for the crew. It's likely that the Nationals will end up facing Suter, Pomeranz, Junior Guerra, Alex Claudio, and Josh Hader once Woodruff has done his share of pitching.
If all those guys do their jobs, the Milwaukee Brewers will have a pretty good chance of winning that game. The offense needs to get just enough to get a lead and lock it down the rest of the way.
In a little over 24 hours, the two teams will be going head-to-head, with one's season coming to a close tomorrow. Both teams are expected to bring their A-game as they battle for the top wild card spot and to advance farther into the postseason.