Top Milwaukee Brewers Of The 2010s: 41. OF Gerardo Parra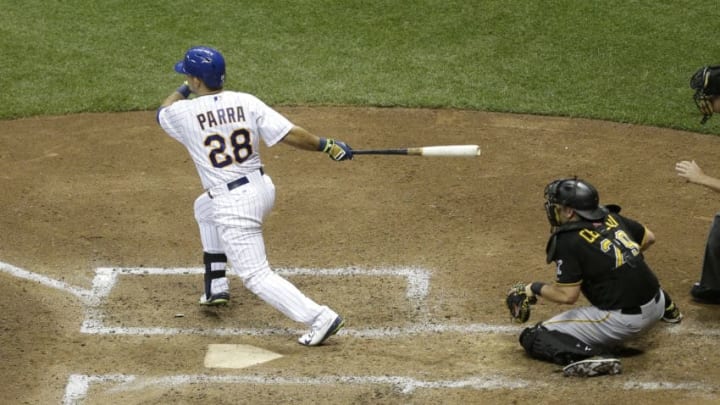 MILWAUKEE, WI - JULY 17: Gerardo Parra #28 of the Milwaukee Brewers hits a RBI single in the seventh inning against the Pittsburgh Pirates at Miller Park on July 17, 2015 in Milwaukee, Wisconsin. (Photo by Mike McGinnis/Getty Images) /
Our ranking of the top Milwaukee Brewers of the 2010s marches on as we're almost done with the 40s.
Coming up next is one Milwaukee Brewers deadline acquisition who was eventually traded away at another July trade deadline.
How We Ranked Them
We created an initial list of the top players by combining their Fangraphs Total WAR from each year they were on the Brewers and ranking them from highest to lowest.
However, this wasn't going to be a list of simply who had the highest WAR while they were here and that's it. So we adjusted the list based on postseason contributions, overall quality of player, and general importance to the franchise.
Our list continues.
41. OF Gerardo Parra
Ah yes, Gerardo Parra. The Gold Glove winning outfielder had a solid impact on the organization in 2014 and 2015.
2014: 0.5 WAR
2015: 2.4
Total WAR: 2.9
The Milwaukee Brewers acquired Parra from the Arizona Diamondbacks in July 2014. The Brewers were solidly in first place that summer and were supplementing their roster for a playoff run. Getting a Gold Glove winner in the outfield that was also pretty good at the plate seemed like a good acquisition.
The Brewers gave up Mitch Haniger and Anthony Banda in that deal. Haniger has gone on to have a solid career in Seattle and Banda has battled injuries but still has a high ceiling. We all know how the 2014 season ended up, so let's not recap that ending. But Parra did a solid job, hitting .268 with a 96 OPS+ in 2014.
Shortly into the 2015 season, the Brewers realized they were about to start a rebuilding phase, which meant jettisoning veteran players to other teams for prospects.
The lack of success for the Brewers on the field would not stop Parra from finding his own success. In the 2015 season, Parra put up 2.4 WAR with the Brewers, despite being traded away with two months to go.
Parra was hitting .328/.369/.517 with nine home runs, 24 doubles, and a 140 OPS+ when he was traded to the Baltimore Orioles in exchange for pitching prospect Zach Davies. Parra hit .237 with a 69 OPS+ down the stretch for Baltimore. Meanwhile, Davies has continued to provide value for the Brewers out of their rotation for the past few years.
It's safe to say the Brewers won that trade. Although you can easily argue the Brewers lost the trade in which they acquired him, winning the trade where he was sent away helps balance that out.
Parra will be most remembered for his ability in the outfield and the hot streak at the plate he was on in an otherwise dreadful 2015 season. But he brought back Davies, which is a pretty good return. He lands at number 41 on our countdown.