Reviewing The Brew: My FanSided 2020 Mock Hall Of Fame Ballot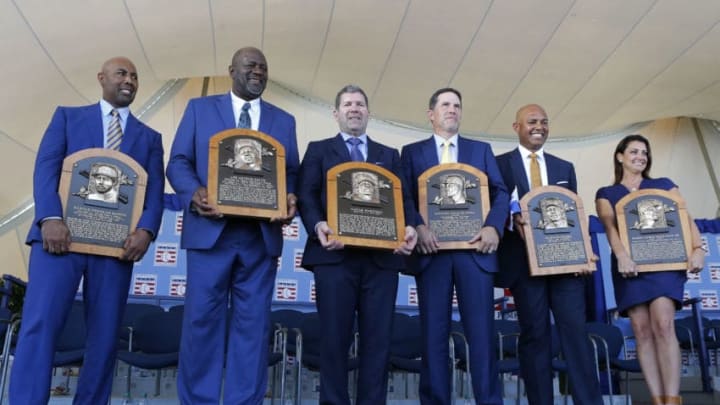 COOPERSTOWN, NEW YORK - JULY 21: Inductees (from left) Harold Baines, Lee Smith, Edgar Martinez, Mike Mussina, Mariano Rivera and Brandy Halladay, wife the late Roy Halladay, pose with their plaques during the Baseball Hall of Fame induction ceremony at Clark Sports Center on July 21, 2019 in Cooperstown, New York. (Photo by Jim McIsaac/Getty Images) /
The National Baseball Hall Of Fame is about to announce it's Class of 2020 in the coming days, and we here at FanSided decided to make a ballot process of our own.
The BBWAA is in charge of voting on the candidates for the baseball Hall of Fame each year. 75% of all votes is required for induction. There are 425 ballots that were cast for them this year.
The MLB site experts here at FanSided, myself included, cast our ballots and gave our explanations for why we voted for certain candidates. The results of the balloting can be found here.
Personally, I voted for six players.
Yes, I am one of those voters that believes known PED users should not be elected to the Hall of Fame, so Barry Bonds and Roger Clemens will not appear on my ballot. The excuse that "so many others were doing it" doesn't make it right.
My HoF Ballot
Derek Jeter
An obvious Hall of Fame case if there ever was one. Jeter's Yankees teammate Mariano Rivera was the first unanimous selection to the Hall last year and Derek Jeter is currently tracking to be the second one to do so. In our FanSided balloting, Jeter fell just shy of unanimity, but he was on my ballot, so it's not my fault.
Over 3,000 hits in his career, playing the most physically demanding position in baseball for 20 years, winning five Gold Gloves, and performing as the "Face of Baseball" for his entire career, all with the New York Yankees.
It's a special career and Jeter is a special player and an easy HoF call.
Larry Walker
In his final year on the ballot, Larry Walker is certainly deserving of induction in my eyes. The numbers that he put up over his career are Hall of Fame worthy, and the altitude bias is a little overplayed for me. Sure his numbers were better at home, but he posted an .865 OPS on the road in his career, which is excellent.
Walker owns an OBP of .400 over his career with a 141 OPS+. Jeter, meanwhile, had a career OPS+ of just 115. Let's not forget Walker's defensive ability. He was a seven-time Gold Glove winner in right field.
Also, let's look at Hall of Fame worthiness stats. Jay Jaffe's JAWS scoring system has Walker ranked as the 10th best right fielder of all time. There are 26 right fielders in the HoF, and Walker is the highest ranked of any RF that's not in the Hall. He has a higher 7-year peak WAR, total WAR, JAWS score, and offensive WAR than other HoFers like Tony Gwynn and Vladimir Guerrero.
Walker has an above-average career WAR, seven year peak WAR, and JAWS score for right fielders. He has all the numbers necessary to earn induction into Cooperstown.
Todd Helton
Todd Helton is another player for me that I believe is deserving of induction, despite playing the entirety of his career in Colorado. His .855 road OPS is similar to Walker's career on the road and Helton has some great career numbers.
Helton has over 2,500 hits in his career and over 1,400 RBIs. At his first base position, Helton ranks as the 15th best all-time, and there are 21 first basemen in Cooperstown. Helton's numbers place him ahead of the likes of Harmon Killebrew, Orlando Cepeda, Tony Perez, Joe Torre, and Hank Greenberg.
I don't think Helton should be disqualified because he was drafted by the Rockies and stayed in the organization. Staying with one organization for the entirety of a 17-year career is another thing playing in his favor.
Helton was also very reliable, playing in at least 144+ games in 10 straight seasons from age 24 through 33.
Jeff Kent
Jeff Kent is another player that has a solid case for Cooperstown upon closer inspection and the advancement of analytics. Kent was a bit of a late bloomer, reaching his first All-Star game at age 31 and really getting his career going once he got to San Francisco.
With San Francisco being mostly a pitcher's ballpark, the strong offensive numbers he was able to put up there were incredible. He was the NL MVP in 2000 at age 32. Kent had 2,461 hits over his career.
Among second baseman, Kent has the most homers and 100+ RBI seasons in history. An .840 career postseason OPS with nine home runs and 11 doubles in the playoffs also helps his case.
Hall of Fame measuring stats such as the Hall of Fame Monitor gives Kent a score of 122, and a likely HoFer is a score of 100. He's been trending up on recent ballots and will likely need a few more years to get the support necessary to earn induction.
Curt Schilling
If there was a big game that your team needed to win at any point in the 1990s or early 2000s, there were few pitchers you would want on the mound more than Curt Schilling. Although he never won a Cy Young award, finishing second three times, Schilling was one of the most dominant pitchers of his era.
His 3.46 career ERA and 3.23 career FIP are elite-level and Schilling allowed only 2.0 walks per nine innings.
The postseason cemented Schilling's legacy. In 133.1 innings, Schilling posted a 2.23 ERA with 120 strikeouts and a 0.968 WHIP. He threw four complete games in October, two of them shutouts. His most famous game is the "Bloody Sock" game in the 2004 ALCS.
A three-time WS champ, and WS MVP in 2001 with the Diamondbacks, Schilling was one of the best big-game pitchers in recent memory. His JAWS score places him firmly among the rest of the starting pitchers in Cooperstown. Schilling is ranked as the 27th best of all time, and there are 65 starters in the Hall. He ranks ahead of Mike Mussina, Tom Glavine, Nolan Ryan, Bob Feller, Roy Halladay, John Smoltz, and many, many more.
All of his stats point to Cooperstown and he deserves enshrinement.
Billy Wagner
One of the elite closers in history, although he's behind the likes of Rivera and Trevor Hoffman, Billy Wagner is deserving of induction. His career 0.998 WHIP is elite, and his 422 career saves is sixth-highest in history.
Wagner also owns a 2.31 ERA over his career and has a 11.9 K/9. A few years ago, Lee Smith was voted into Cooperstown by the veteran's committee and Smith had a 3.03 ERA and Wagner has better stats than him in most categories, except for total saves.
If Smith is deserving of induction, Wagner deserves to be in there as well.
So that is my 2020 Hall of Fame ballot, if I were to have a real vote. Let me know what you think down below.