Brewers: David Freitas Looking To Build Off Momentum Heading Into 2020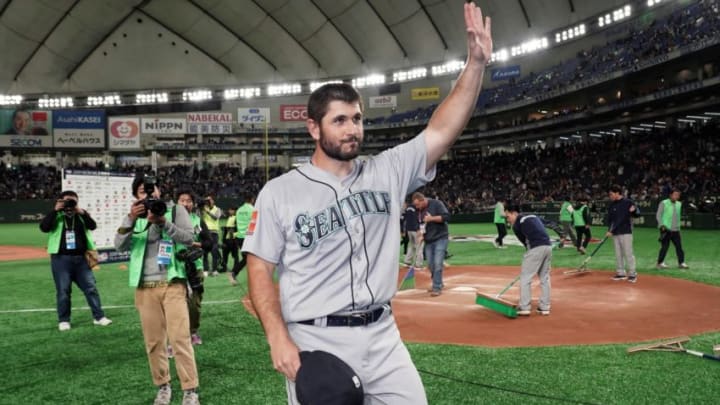 TOKYO, JAPAN - MARCH 18: Catcher David Freitas #36 of the Seattle Mariners applauds fans after the preseason friendly game between Yomiuri Giants and Seattle Mariners at Tokyo Dome on March 18, 2019 in Tokyo, Japan. (Photo by Masterpress/Getty Images) /
The Milwaukee Brewers like to be prepared at all positions. David Freitas is ready to step in behind the plate and build off his strong performance in 2019.
Last April, the Brewers swung a trade with the Seattle Mariners in a deal that didn't make many headlines at the time, but brought David Freitas to the Brewers organization. Brewers fans weren't all that familiar with the 30-year old Freitas, and he wasn't that familiar with Milwaukee either.
Of his reaction to the trade, Freitas said "I was excited… It was a tough transition for [our family] but I think it was for the best. Seattle had a lot of catchers so I knew there was going to be a move, just didn't know if it was going to be me or not." Freitas continued "I didn't know much [about Milwaukee] but my agents did say they thought it would be a good opportunity for me and said a lot of good things about the organization".
When Freitas joined the organization, he was sent to Triple-A San Antonio and he started making some noise from there. In the month of April, Freitas hit .435 with a .940 OPS, and he continued to hit, and hit some more, posting an .357 batting average or higher in every month last season.
Freitas put up some crazy numbers with the San Antonio Missions. For the season, he hit .387 with a 1.030 OPS, 21 doubles, 12 home runs, and 42 walks with just 49 strikeouts. He was locked in all season long.
"I really focused on never coming out of my approach at the plate and not giving any at-bats away. And when I wasn't playing, FaceTiming the family back home [helped]" Freitas said of what made him feel so locked in.
At the end of the Triple-A season, Freitas had clearly set himself apart from the rest of the crowd in Triple-A and ended up winning the Triple-A batting title. That earned him a September call-up to the Milwaukee Brewers where he served as the third catcher behind Yasmani Grandal and Manny Pina.
Turning to 2020
After such a successful 2019 season that saw a batting title award and a return to the big leagues, Freitas is looking to take that momentum into his second year in the Brewers organization.
"My mindset is to build off of what I did last year and continue to stay with the mindset I've always had: work hard and be on the big league team" said Freitas.
Making the big league team might be a little less challenging this year. MLB has changed the roster rules for 2020, expanding the regular season roster from 25 to 26 players, and limited the number of pitcher spots on the roster to 13. Considering the Brewers, among other teams, had been carrying 13 pitchers the last few years anyways, this will allow them to carry an extra position player.
Traditionally, teams have carried just two catchers on their roster, but with this extra roster spot now, having another player who can play such a critical defensive position could be a point of emphasis for a team like the Brewers.
When asked about the roster expansion potentially giving him a better chance of making the big league team, Freitas said "I sure hope so".
On the field
Freitas earned a call up to the big leagues in September last season and saw action exclusively as a pinch-hitter, with 16 plate appearances and just one base hit. He did not see any time behind the plate in September, so Brewers fans know very little about Freitas' defensive game.
"I really pride myself on my leadership behind the plate. My relationship with pitchers and working with them and getting the best out of them every single day. My game calling is something I'm really proud of." said Freitas.
Despite being a strong offensive player, Freitas is more proud of his capabilities defensively. His skills on both sides of the ball are partly influenced by the players he looks up to and tries to copy.
When asked who he models his catching game after, Freitas replied "Jason Varitek… because he called such good games and pitchers loved throwing to him." Of his offensive game, Freitas models himself after a future Hall of Famer. "[I chose] Albert Pujols, because I love his swing and I love how he uses the whole field" Freitas said.
It's hard to beat those two players when it comes to catching and offensive prowess.
For Freitas, the 2020 season should present him with opportunity with the Milwaukee Brewers. Coming off a strong season, and with the 26th roster spot, Freitas has a fighting chance to make the big league club with a strong spring training.
It will be a tough decision for the Brewers, given all their depth at each position, to determine how they will use the extra roster spot they will have this season compared to seasons in the past.