Milwaukee Brewers 2020 Top 25 Prospects List: Nos. 6-10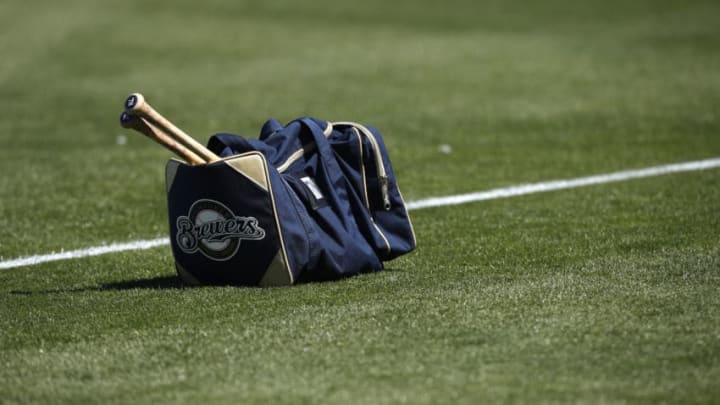 (Photo by Mike McGinnis/Getty Images) /
MARYVALE, FL – MARCH 14: Corey Ray #78 of the Milwaukee Brewers bat bag on the field before the Spring Training game against the Angels of Anaheim at Maryvale Baseball Park on March 14, 2019 in Maryvale, Arizona. (Photo by Mike McGinnis/Getty Images) /
Here at Reviewing the Brew, we've been unveiling our 2020 Top 25 Milwaukee Brewers Prospects list over the last week.
After revealing the prospects from 21-25, 16-20, and most recently 11-15, we have now reached the Top 10 on our Brewers prospects list.
To begin the final 10 players on our list, is one of the Crew's former first round picks.
10. OF Corey Ray
Corey Ray is one of the most difficult players to rank and predict in the entire farm system. Selected with the 5th overall pick in 2016, Ray was an experienced college center fielder out of Louisville and there was a ton of hype surrounding his potential. Ray possesses the rare combination of both power and speed. He can steal bases and hit bombs, which is what makes fellow Brewer Christian Yelich so valuable.
They can get that same thing out of Corey Ray, when he's healthy. However, the big caveat with Ray, is that he's often not healthy. He had a solid debut in 2016 right after getting drafted, especially with an aggressive assignment to High-A out of the gate. He was projected to move quickly through the system.
But then injuries hit in 2017, sapping him of his power and hit tools, hitting just .238 with seven homers back in High-A. In 2018, Ray had a fully healthy season, and we saw a glimpse of his full potential. His batting average stayed low at .239, but he slugged 27 homers with 37 stolen bases in 2018 with Double-A Biloxi.
Everything is back on track, right? His prospect value is up, he could be in Milwaukee shortly, right? Wrong.
Hand and finger injuries derailed Ray's 2019 season, getting only 262 ABs, while hitting just .218/.291/.363 with eight home runs and six stolen bases. In Triple-A San Antonio, Ray hit an abysmal .188 in 207 ABs.
When healthy, the power is there, the speed is there, and Ray is a key player when he's on the field. But he's not out there often enough, and even when healthy, his hit tool has not developed as hoped. Ray strikes out too much (106 Ks in 262 ABs in 2019) and isn't healthy enough for him to be ranked higher on this list.
Ray was added to the 40 man roster this winter, so there's a solid chance he could be called up in case of an injury at the big league level this year, but he needs to stay healthy himself. He's tried to play through his injuries, but that's made his stats look terrible. It'd be better for him to just take the IL stint when an injury comes up instead of playing through it. Playing through a hand injury as a hitter is nearly impossible.
Until Ray has a healthy season and can improve his hit tool, he will continue to fall down prospect lists. For us, he drops to No. 10 in the 2020 edition.