Brewers: When will top prospect Brice Turang arrive in Milwaukee?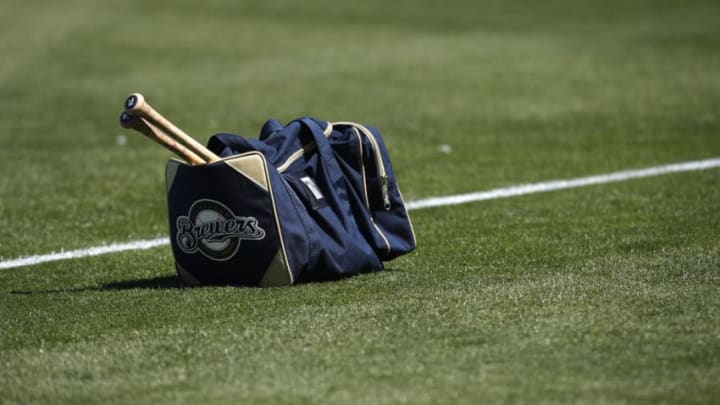 (Photo by Mike McGinnis/Getty Images) /
Milwaukee Brewers top prospect Brice Turang is starting his Spring in Major League camp for the second straight season. Is this any indication that Turang is close to making his Major League debut?
It's not often that 20 year olds who are two years removed from high school make their way to Major League Spring Training. That's what Brice Turang has done. He also did it last year when he was only 19 years old and appeared in nine games during Spring Training.
The fact that Turang is starting his season around Major Leaguers indicates how highly the team thinks of him and his potential. But how close is he really to making his Major League debut?
Where did Turang spend the 2019 season?
Turang split the 2019 season between Single-A and High-A.
Turang appeared in 82 games for the Single-A Wisconsin Timber Rattlers last year. He slashed .287/.384/.376 in 357 plate appearances with the Brewers Single-A affiliate. He also managed to hit two homers and steal 21 bases in 25 attempts.
Turang's impressive half season at Single-A earned him a promotion to the next rung on the Brewers organizational ladder, the High-A Carolina Mudcats.
Turang made 47 appearances for the Mudcats last year, and slashed .200/.338/.276 in 207 plate appearances. He only homered once in High-A, and stole nine bases in 10 attempts.
Where will Turang start the 2020 season?
Taking another shot at High-A is the most likely start to Turang's age-20 season. Turang was still able to get on-base at High-A, but he struggled at the plate. It's likely that he would be overmatched at Double-A in this point in his development.
When will Turang make his way to the Major League roster?
Turang is at least two years away from even thinking about the playing in the Majors, and that's assuming that his 2020 season goes absolutely perfect.
Turang needs to show that he can handle High-A pitching, and then earn a promotion to Double-A. He also needs to prove that he can handle the every day job at shortstop because his path to the Majors will be blocked by Keston Hiura at second base for the foreseeable future. Turang clearly has a long way to go before he's ready for the Majors, but it's great to see that the Brewers are showing faith in him by having him participate in Spring Training. It's clear that his future is bright and the team believes he'll be competing for a job in Spring Training in a few years.