Brewers: Gomez, Gallardo, & Rodriguez to be inducted into Wall of Fame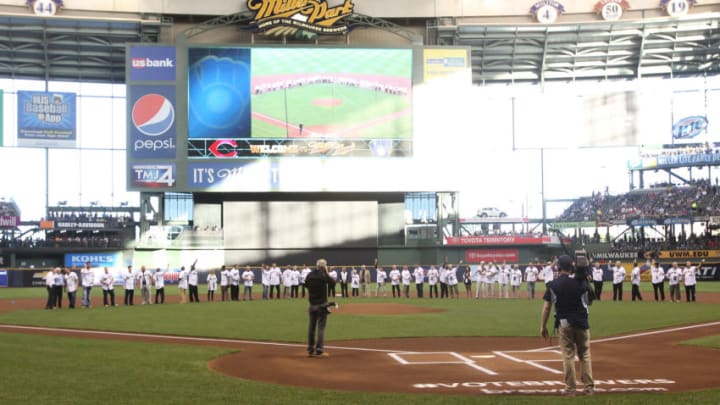 MILWAUKEE, WI - JUNE 13: Brewer Wall of fame inductees before the game between the Cincinnati Reds and the Milwaukee Brewers at Miller Park on June 13, 2014 in Milwaukee, Wisconsin. (Photo by Mike McGinnis/Getty Images) /
Being named among legends, Carlos Gomez, Yovani Gallardo and Francisco Rodriguez will be recognized on the Brewers Wall of Fame with a ceremony at a later date.
Any Brewers fan can see or hear the names of Carlos Gomez, Yovani Gallardo, and Francisco Rodriguez and immediately recognize who you're talking about. These three men have contributed a huge amount to the team and are finally being recognized among many other legends on the Brewers Wall of Fame displayed right outside of Miller Park.
Carlos Gomez
"Go-Go" Carlos Gomez spent 13 seasons in Major League baseball, five of those being in a Milwaukee Brewers uniform.
In 2013 and 2014, Gomez made two all-star appearances in a Brewers uniform and even won the only Gold Glove of his career as a Brewer.
He hit a career .267 during his time in Milwaukee, hitting 87 home-runs, stealing 152 bases, in 697 appearances from 2010-to-2015. In 2011, he also was the Brewers' everyday center fielder and held a perfect fielding percentage, assisting in bringing the team to their National League Championship series run that same year.
Gomez does plan on retiring as a Milwaukee Brewer and will be recognized prior to the Wall of Fame honor. Ceremony date has yet to be announced.
Yovani Gallardo
A second round pick in 2004, Yovani Gallardo went on to spend eight seasons with the Milwaukee Brewers, posting a 3.69 ERA in 211 starts and three relief appearances. Gallardo also holds the franchise record in strikeouts (1,226) and even was selected as the Brewers Pitcher of the Year in 2009, 2010, and 2012. He also represented the Brew Crew in the 2010 All-Star Game and earned a Silver Slugger Award in that same year.
Gallardo was traded by the Brewers in 2015 to the Texas Rangers in exchange for infielder Luis Sardinas, and right-hander Corey Knebel and Marcos Diplan. He did make a brief appearance back in Milwaukee in 2017, but it didn't last long.
Francisco Rodriguez
Spending five seasons of his 16-year career in Milwaukee, Francisco Rodriguez recorded a 2.91 ERA and 95 saves in his 263 appearances. He made two All-Star appearances in both 2014 and 2015 Midsummer Classics. Rodriguez has made a lot of contributions to the franchise, but he's most remembered for his pitching efforts. He was a key player in the 2011 postseason run when the Brewers brought home both the NLCS and NLDS titles.
Rodriguez was traded to Baltimore in 2013, came back on a one-year deal in 2014, became a free agent then came back in 2015.
Congrats to these three on their induction announcements, they are definitely ones that deserve a spot on that wall.