Brewers: Top "One Year Wonders" In Franchise History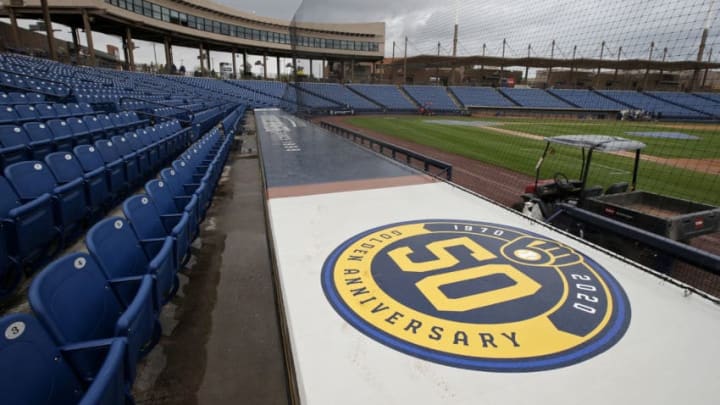 American Family Fields of Phoenix (Photo by Ralph Freso/Getty Images) /
MILWAUKEE – MAY 9: Derrick Turnbow #59 of the Milwaukee Brewers delivers the pitch against the Washington Nationals on May 9, 2007 at Miller Park in Milwaukee, Wisconsin. The Brewers won 3-1. (Photo by Jonathan Daniel/Getty Images) /
It's typical to think of a 'great Brewers player' as someone who spent a decent amount of time in Milwaukee. However, there have been players that have come and gone in Milwaukee that could easily be considered 'one year wonders', and had a huge impact in their short time here.
The Milwaukee Brewers have relied on big contributions from perhaps unexpected people over the years. After providing big contributions one year, they weren't really able to provide the same kind of contributions again. That leaves them as a one year wonder. Let's take a look at a few from Brewers franchise history.
This list is in no particular order. Let's get started.
6. Derrick Turnbow – 2005
Derrick Turnbow is a name that people don't really mention much anymore, but when he's mentioned, a whole bunch of memories come flooding back. Derrick Turnbow is probably one of the greatest One Year Wonders that ever came to the Brewers. Although he spent more than a year with Milwaukee, Turnbow really only had one solid year.
He struggled with the Angels prior to coming to Milwaukee, going back and forth from the majors to the minors. Turnbow came to Milwaukee in 2005 off a waiver claim and it was going to be a challenge for manager Ned Yost to decide what he was going to do with Turnbow.
Derrick Turnbow ended up doing a complete 180 and had an outstanding season. He would post 39 saves, which at the time tied a record in the franchise's history and had a 1.74 ERA. The closer was the runner-up for the Rolaids Relief Man of the Year and the Brewers even gave Turnbow a 3-year contract extension worth around $6.5M.
But, as everyone has their highs, Turnbow hit his low fairly quick and by the time he was 30, he was already out of baseball and out of a professional career.
5. Nyjer Morgan – 2011
Nyjer Morgan's regular season stats weren't exactly eye-popping, posting a slash line of .304/.357/.421/.778 with only four home-runs in 119 games / 429 plate appearances. What most people remember Morgan for, besides his post-game interview antics and personality, is his walk-off hit in Game 5 of the 2011 NLDS.
With Carlos Gomez on second base, Morgan had to step up to the plate and deliver something that would break the tie in extra innings and help the Brewers secure the win. Nyjer Morgan hit a ground ball single into centerfield which then sent Carlos Gomez sprinting on his way home and would clinch the Brewers' first postseason series win in 29 years.
Morgan last played in the 2017 season, last making a MLB appearance in 2014 with the Cleveland Indians then traveled to South Korea for 2015 and then went to Mexico. MLB Brewers beat writer Adam McCalvy said it himself when he said that "Morgan will always be remembered for the biggest little hit since Cecil Cooper …in Game 5 of the 1982 American League Championship Series against the Angels."