Milwaukee Brewers 5 Round MLB Mock Draft 2.0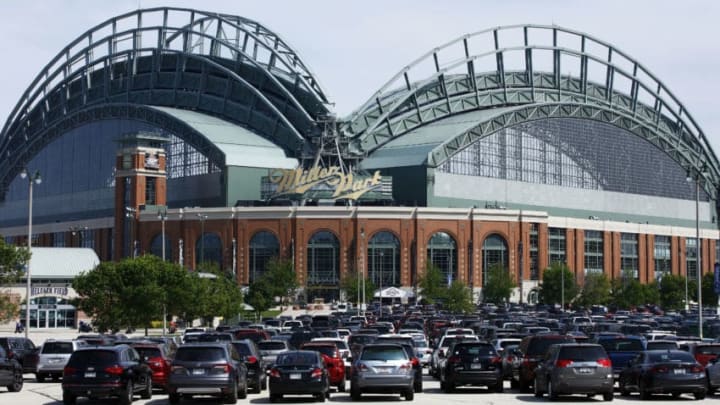 MILWAUKEE, WI - JUNE 06: General view of the ballpark exterior during a game between the Milwaukee Brewers and Miami Marlins at Miller Park on June 6, 2019 in Milwaukee, Wisconsin. The Brewers won 5-1. (Photo by Joe Robbins/Getty Images) /
With the 151st pick in the 2020 MLB Draft, the Milwaukee Brewers select Tim Tawa, SS/OF, Stanford
To this point in our Mock Draft 2.0, the Milwaukee Brewers have only selected one position player, a catcher, and that was back in the first round. After going with college pitchers in the previous three rounds, they'll go back to a position player with Tim Tawa out of Stanford University.
With a shortened draft, the Brewers will not be able to draft players at every single position in the field like they could in a normal 40 round draft. So instead, here in the fifth round, they will draft a player who can play every single position. Tim Tawa is a jack of all trades position player.
By trade, Tawa is a shortstop and a centerfielder, but with his speed and arm strength, he can play basically any position defensively. Fangraphs has Tawa ranked as the No. 160 prospect on their big board.
It's pretty well known by now that the Brewers place a high value on positional versatility, and that's the key strength for Tawa.
Offensively, Tawa has struggled recently, going back to summer 2019. In the Cape Cod league last summer, Tawa hit just .221 over 26 games for the Falmouth Commodores. Then in the spring 2020 season, Tawa had a .213 batting average in 16 games with a sub-.300 OBP and SLG.
For his entire college career, Tawa has a .267/.307/.435 slash line with 16 home runs and 16 stolen bases over three seasons.
He was an All-Pac 12 player his freshman year, when he hit .296 with seven home runs, 41 RBIs, and a team high 18 doubles that year.
For whatever reason, Tawa's offensive numbers have tumbled as he has gotten older, which obviously isn't a great trend. In all likelihood, Tawa won't be a big league starter at any one given position, but he could work his way to the big leagues as a utility option off the bench and his ceiling is probably close to that of Hernan Perez.
In high school, Tawa was also a standout football player, starring as the quarterback for his high school in West Linn, Oregon and winning the Gatorade Player of the Year award for the state three times!
Tawa's athleticism and positional versatility gives him a higher floor, but he still has a limited ceiling. If his bat can turn around in pro ball and he can start getting on base more often, he can work his way up the big leagues.
Just like our Mock Draft 1.0, we have the Brewers selecting three pitchers and two position players with their five picks. Let us know what you think of the picks if any draft prospects stand out in your eye.