Milwaukee Brewers: 2020 MLB Mock Draft Roundup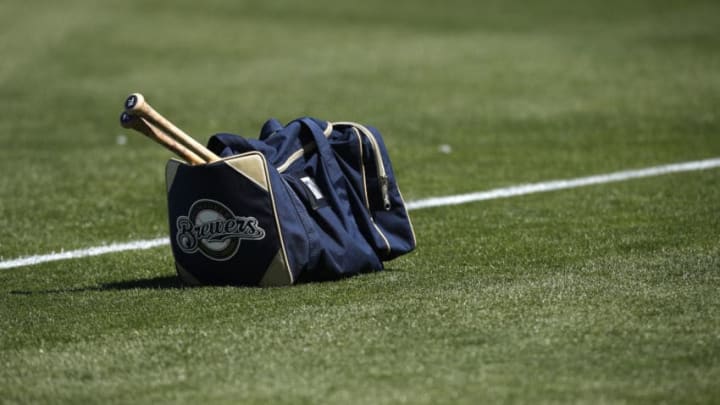 (Photo by Mike McGinnis/Getty Images) /
The MLB Draft is finally here! With only five rounds this year, the Milwaukee Brewers will have the 20th overall pick. Who could they be making a Brewer?
It's always interesting to try and predict where a player will end up in the Draft. Seeing all the different prospects and what they have to offer, there are a lot who make sense as possible Brewers picks.
Lets see what others had to say about who they believe could possibly become a Milwaukee Brewer in this year's draft.
MLB Pipeline – Jonathan Mayo
Dillon Dingler, C, Ohio State
Dingler is a solid catcher, putting out some good defense and has a great arm. He's number 24 on their prospect board and people have described him as one of the "best defensive prospect among college catchers." Since the Brewers lost Yasmani Grandal, they still have Omar Narvaez, Manny Pina and Jacob Nottingham, but we still have yet to really see how Narvaez performs, and Nottingham hasn't really performed well. But, having Dingler as an option is something the Brewers could possibly look into.
Mayo also mentioned other names such as Georgia's Cole Wilcox, California's Pete Crow-Armstrong, and Miami's Slade Cecconi as potential options for the crew as well.
MLB Pipeline – Jim Callis
Pete Crow-Armstrong, OF, Harvard-Westlake (CA) HS
In Pipeline's dual mock draft, Callis disagreed with Mayo and had prep outfielder Pete Crow-Armstrong as the Brewers pick. With his strong hit tool, great speed, and excellent defense, Crow-Armstrong can stick in center field and has high upside going forward.
Garrett Mitchell, CF, UCLA
Mitchell is ranked 6th on the MLB Pipeline Top 200 and 14th on Fangraphs' THE BOARD. He was a potential first round pick for the Oakland A's, but decided to commit to UCLA. He's 6'3″ and has speed in the outfield with a powerful throwing arm. He's been voted one of the best outfield defenders among all college players. Even with a powerful throwing arm, he's also able to use that at the plate, making a lot of contact with the ball. He would be a good addition to the Brewers, as he brings good defensive prowess as a center fielder, that's something teams look for.
Dillon Dingler, C, Ohio State
This is the second time we're seeing Dingler's name being mentioned with the Brewers. Maybe this means that the Brewers are in on him? Although he started as a center fielder his freshman year, in his short sophomore season, he moved to behind the plate and was able to show that he is a solid catcher behind the plate.
Tanner Burns, RHP, Auburn
Burns has a lot of potential to make his way up the major league ladder and that's just what the Brewers need. Adding a right-handed pitcher into the mix is something the Crew really needs and could be beneficial in the long-run. With a fastball and curveball as his main pitches, his fastball can reach up to 97 mph and he's able to throw the ball with heat and angle it low in the zone.
Garrett Mitchell, CF, UCLA
Yet another duplicate name makes the list! According to Rotoballer, they feel like Milwaukee would be a "solid landing spot" for Mitchell. He's got the speed and defensive power in the outfield, the only thing that could be a worry to teams is his Type-1 Diabetes possibly being a hindrance to his performance at times. But, with him being mentioned twice, like Dingler, maybe the Brewers should look into selecting Mitchell if he's on the board.
Cole Wilcox, RHP, Georgia
Another RHP that could potentially be a good addition for the Brewers. Wilcox's fastball alone is being measured in speed in the high 90's and he's also developed a good slider that can be beneficial when it comes to taking the mound. Out of high school, he was drafted by the Washington Nationals, but decided to keep his commitment to the University of Georgia. He's looking to be a first round pick along with his teammate Emerson Hancock, who's currently the top of Georgia's draft class.
With a lot of options on the table, we're hoping the Brewers make the right first round decision with who they're going to bring to Milwaukee.