Brewers News: Dylan File Reportedly to be Added to 60-Man Roster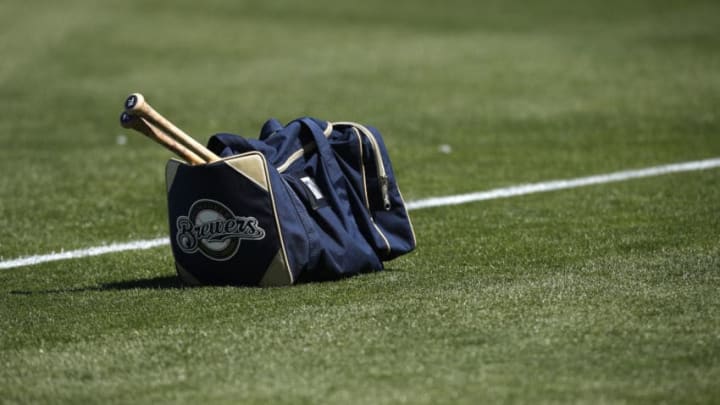 (Photo by Mike McGinnis/Getty Images) /
Unlike some other teams, the Brewers still haven't announced the full roster for their secondary training site. That may change soon as rumors surfaced Tuesday of one player who is supposedly attending.
Baseball fans who also follow along with the Minor League systems of their favorite MLB teams were certainly saddened, though likely unsurprised, when all the league seasons were cancelled last week. But that didn't necessarily mean they wouldn't get any Minor League player news at all this year.
One benefit of the 60-man rosters that MLB teams get to utilize is the chance for at least some of each team's top prospects to get some work on the side at a secondary location outside of the team's home stadium. Those players could be promising prospects from the last few years or draftees from this year.
While some other teams have already announced who those players would be with the unveiling of their Summer Camp squads, the Brewers decided to hold off on unveiling all 15 members from their 60-man roster who would be going straight to Appleton, where their secondary training site will be held. The one exception to that, thus far, had been Tyrone Taylor.
That list of names may be coming in the near future, however, as another player's name can apparently be added to the group. Dylan File will apparently be joining Taylor at Milwaukee's alternate training location.
What's the scoop on File?
File was a 21st-round draft pick in 2017 by the Milwaukee Brewers. After a solid year at Low-A Wisconsin in 2018, he really made a name for himself as he worked his way up the Brewers' minor league system in 2019.
The right-hander made 12 starts at High-A Carolina, going 6-4 with a 3.80 ERA and a 1.18 WHIP. That earned him a mid-season promotion to Double-A Biloxi where his numbers got even better. In 14 starts there, he went 9-2 while lowering his ERA and WHIP to 2.79 and 1.10, respectively.
File's performance was good enough to place him at No. 24 on MLB Pipeline's initial 2020 Top 30 Prospects list for the Brewers. File came in at No. 21 on Reviewing the Brew's Top 30 list this year. He has a fastball that usually sits in the low 90s and a very solid slider to go with it. But it's his 60-grade control, tops in Milwaukee's Minor League system, that is his bread and butter. It's also what explains his combined ratio of 136 strikeouts to just 22 walks in 2019.
When will we know who's joining him?
We still don't have any official date as to when the rest of the names might be released. But if File is indeed reporting next Monday as the above tweet states, it's likely everyone else will be joining him around that time as well.
What could also help that case was the other news that broke Tuesday in Brewers 1st round draft pick Garrett Mitchell reportedly being close to signing his contract with Milwaukee. With him in the fold, the Brewers officially know all of their potential options to fill out the rest of the 60-man roster.
As we've mentioned earlier, it is likely that the three 40-man roster members who didn't make Summer Camp along with Taylor – Trey Supak, Angel Perdomo, and Corey Ray – will probably be ticketed for Appleton as well. Now we can add in File and, in all likelihood, Mitchell, which still gives us at least nine more roster spots to speculate about over the following days.
It probably won't be long before we know the rest of the players who will be joining File and company at the Timber Rattler's home stadium. Follow along while we break it down as more names get announced.