Brewers: Updating The Crew's Top 10 Prospects List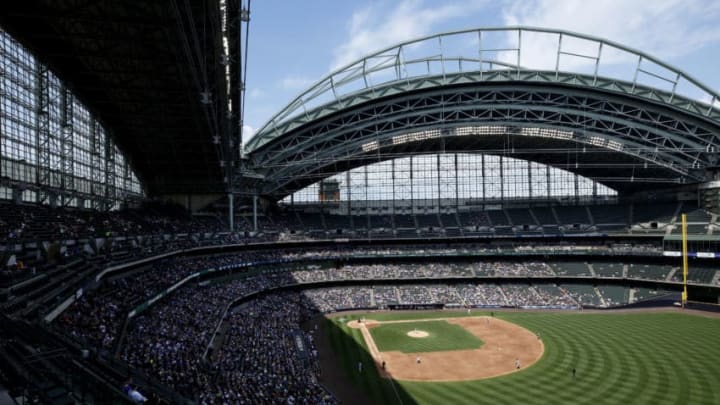 MILWAUKEE, WI - JUNE 06: General view of the ballpark with roof open from the upper level during a game between the Milwaukee Brewers and Miami Marlins at Miller Park on June 6, 2019 in Milwaukee, Wisconsin. The Brewers won 5-1. (Photo by Joe Robbins/Getty Images) /
Now that the 2020 MLB Draft is completed and all the picks have been signed, it's time to update the Brewers top prospects list.
With Garrett Mitchell agreeing to terms with the Brewers, the entire draft class is under contract. There won't be any more big prospect additions this year, so this is the group to work with.
Since there won't be a minor league season this year, that means we don't have any game performance from the previous few months, gauging whether players should move up or down the prospect list is extremely difficult.
We have some new additions to the organization that are joining this list. Let's get started.
10. SS Freddy Zamora
The Brewers 2nd round pick this year is able to crack the Top 10. Freddy Zamora has shown himself to be a consistent offensive player with the defensive skills to stick at shortstop moving forward. That kind of pedigree is enough to place him high on the rankings.
Zamora was dealing with a knee injury this spring and wasn't able to play before the college season was suspended.
When he has been on the field, Zamora is a contact machine, rarely ever striking out. In 2018, Zamora struck out just 18 times in 211 at-bats. That's a 8.5% strikeout rate. In 2019, Zamora had 27 times in 199 ABs. He's consistently drawn more walks than strikeouts as well.
Defensively, Zamora has a strong arm and good range which should make him a capable big league shortstop no matter how his bat develops. If the bats develops well, he'll be able to hold down a starting shortstop job for quite a while. Until he can prove that more consistently, he's down here at No. 10.
9. C Zavier Warren
What? The Brewers third round pick is ranked ahead of the second round pick? You got that right, and here's why. Zavier Warren's hit tool is superior and he can hit from both sides of the plate. Warren has mostly played in the infield in college, but the Brewers will send him out as a catcher. He has positional versatility and plays a premium defensive position up the middle.
Warren has more gap power than over-the-fence power, but he also has a contact oriented approach and has consistently walked more than he struck out. He had a .502 OBP in his sophomore year. That's insane, even for college baseball.
The Brewers believe that Warren can stick at catcher, where his bat would provide tremendous value. Switch hitters at that position are hard to find.
With his combination of hitting ability, versatility, and up the middle position, Warren inserts himself into the Crew's top 10, landing at No. 9 on the list.