Milwaukee Brewers: Projecting the 30-Man Roster, Version 2.0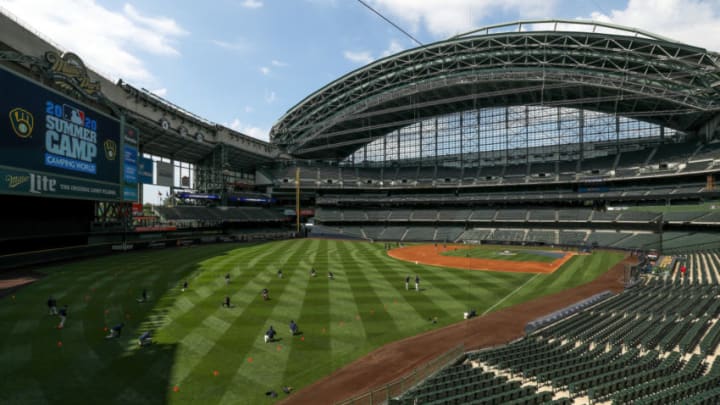 (Photo by Dylan Buell/Getty Images) /
With just a week before the Brewers' first game of the season, we have a better idea of who might be in the dugout on Opening Day. Here is our second crack at projecting that 30-man roster.
In our first attempt to predict the players who would start the year on the 30-man roster for the Brewers, we weren't working with much information. Summer Camp, as it would be called, hadn't started yet so we were mostly relying on Spring Training performances.
Additionally, in our first roster projection, we went with a straight split of 15 position players and 15 pitchers to bring balance to the roster. We have learned since then that manager Craig Counsell likely plans to go with a more pitcher-heavy mix to begin the year.
So, with that information in hand, as well as the knowledge of some players from the original list who probably won't be ready for the start of the MLB season, here's our second crack at predicting the members of Milwaukee's Opening Day squad.
Catchers (2): Omar Narvaez, Manny Pina
Odds should still be that Counsell only rolls with two catchers to begin the season. Narvaez and Pina complement each other perfectly as righty-lefty platoon partners and are the obvious choices for the team's two backstops.
Even if the team does need help at catcher due to injury or illness, backups are just down the road at the secondary training site in Appleton if the Brewers are at home, and the three-man taxi squad every team will carry on the road is required to include a catcher. Plus, as you will see, there aren't many good options to leave off just to carry an extra catcher who might never play.
The only change here from our first roster projection is the removal of Luis Urias. The young infielder was one of three Brewers to test positive for COVID-19 before Summer Camp and has not joined the team yet. He is currently on the Injured List and will probably begin the season that way.
Six of the seven infielders here are locks with Morrison being the only fringe candidate. He had a loud home run in the team's third scrimmage on Thursday to continue to build off his strong Spring Training, so he still makes the roster here, though there could be tough decisions to make when rosters shrink down the road.
There are no changes here from our earlier roster projection as all candidates are healthy and ready to start the season. Braun has not received any playing time during the three team scrimmages, but according to Adam McCalvy of MLB.com, that was at Braun's request and he is perfectly fine.
Gamel was the only one of the five who had a remote chance of being left off. But he has been so hot lately at Summer Camp that it would take something drastic for him to not to be included on the Opening Day roster.
The big change here is replacing Eric Lauer with Burnes. Not only has Lauer's Summer Camp debut also been delayed for COVID-related reasons, Burnes was electric during his scrimmage start the other day and has probably secured the team's fifth rotation spot.
Anderson did get pulled from his scrimmage start the other day when he developed a blister on his hand, though the team stated that the move was more precautionary than anything. Should it linger, that is the only other spot that could be up for grabs.
It seems to make more sense that Counsell will go with 16 pitchers as opposed to 17, mostly because there is not a clear player to remove from the position players listed above. With Burnes now in the rotation, that gives us two relievers to add to our previously predicted bullpen.
Feyereisen and Wahl get the nods here, barely edging out fellow bubble candidates Mike Morin and Eric Yardley. The two looked solid in the team's first Blue-Gold World Series scrimmage and already being on the 40-man roster helps their cases.
The Brewers have just a few more days to get their roster sorted out before their season begins next Friday. Those final days will go a long way in determining who is in the dugout for that first game.