Brewers: Eric Lauer Impresses In Debut, Could Battle For Rotation Spot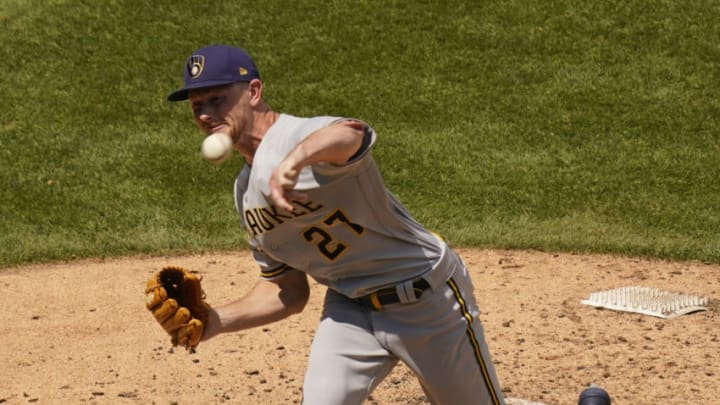 CHICAGO, ILLINOIS - JULY 26: Eric Lauer #27 of the Milwaukee Brewers throws a pitch against the Chicago Cubs during the fourth inning of a game at Wrigley Field on July 26, 2020 in Chicago, Illinois. (Photo by Nuccio DiNuzzo/Getty Images) /
Brewers LHP Eric Lauer was activated in time for Sunday's game and he did not disappoint.
Even though the Milwaukee Brewers acquired Eric Lauer back in November 2019, Brewers fans haven't gotten a chance to see much of the left hander to this point.
He had a few outings in Spring Training before going down with a minor shoulder injury, and then was late to pitching in Summer Camp after a 2 week quarantine stemming from close contact with a Covid-19 positive person, although Lauer was never positive himself.
Lauer had only one scrimmage outing in camp, and it last just one inning. However, that one inning did look great.
Now he's been activated and Lauer is taking advantage of his opportunity.
Lauer Dominated The Cubs
Let's set the scene here. It's the fourth inning and Freddy Peralta is running into trouble. He gives up a couple of runs, can't get an out and Corey Knebel comes in to try to stop the bleeding. Unfortunately, Knebel wasn't able to do that and a few more runs come across and the Cubs all of a sudden have five runs.
Still with only one out in the inning, Craig Counsell brings in Lauer. Lauer then strikes out Anthony Rizzo and Kyle Schwarber to end the inning with no more damage.
Then Lauer has a 1-2-3 inning in the 5th with another strikeout. He followed that up by striking out the side in the 6th inning, giving him six strikeouts in the eight outs that he got.
His final line: 2.2 IP, one hit, no runs, one walk, six strikeouts.
It took Lauer 46 pitches to get eight outs while starter Freddy Peralta got nine outs in 66 pitches.
Possible Rotation Spot?
It's no secret the Brewers starting pitchers struggled with command during this opening series against the Cubs. Brandon Woodruff had some issues with efficiency, Burnes was effectively wild, but walked three and only got through 3.1 IP in 75 pitches on Saturday, and Peralta struggled with throwing strikes as well.
Obviously, you can't fully judge any of those pitchers on just one start. However, in just a 60 game season, there's a little more urgency for the rotation to be at maximum effectiveness as soon as possible.
It's easy to forget that Lauer was the favorite for the 5th rotation spot not too long ago. He was slated to be in a battle for that spot with Burnes and Peralta, but the injury and then required self-isolation held him back.
Since both Burnes and Peralta struggled in their first starts, it's well within the realm of possibility that he could take one of their spots fairly soon. Peralta may be the most likely choice since he pitched the same day as Lauer and then Lauer can simply slide into that spot in the schedule.
Lauer looked sharp in his outing, a lot sharper than Peralta or Burnes looked throughout their outings. Don't be surprised if he pushes his way into starting every fifth day at some point relatively soon.
The Brewers are sitting at 1-2 after their first series of the year and will need to get the offense going and the pitching to get in sync quickly.