These Brewers' Pitches Have Been the Most Unhittable This Year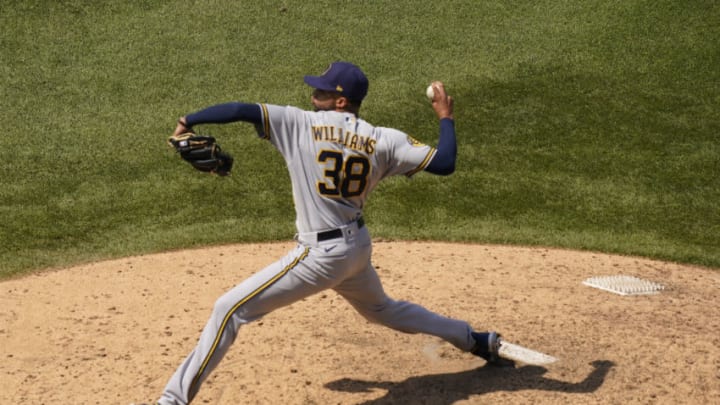 Devin Williams, Milwaukee Brewers (Photo by Nuccio DiNuzzo/Getty Images) /
Brewers pitchers have had plenty of success so far in 2020. Some of their pitches have even been completely unhittable to opposing batters.
While many members of the Brewers offense have been largely waiting to hit their stride this season, the pitching staff, for the most part, has held its own. Going into Wednesday's games, the staff's 3.76 ERA ranks 9th in the MLB and 5th in the National League.
Strong individual performances by several Milwaukee pitchers have played a big part in the team's pitching success. Of the 15 pitchers who are currently on the active roster, 9 of them sit with a sub-4.00 ERA.
Each of the Brewer hurlers who have found success this year have a unique repertoire of pitches that they use to keep hitters off balance. But these pitches have truly earned the title of being the most unhittable Brewers' pitches in 2020.
1. Devin Williams's changeup
Williams came into this season as the only player on the active roster who was also a member of the team's Top 30 Prospects list at MLB Pipeline, a list that he recently graduated. They gave him a 65-grade fastball, one of the better ones in the organization. But it's his changeup that has completely mystified hitters this year.
Williams has thrown the pitch 49 times this season and it has been responsible of 9 of his 12 strikeouts while only being put in play four times. Hitters struggle against its elite movement – the pitch ranks second in vertical movement to average changeups and also ties for fourth in horizontal movement to average.
2. Josh Hader's, well, everything
Hader hasn't gotten many opportunities to pitch this year based on how games have shaken out, having thrown the second fewest pitches of anyone currently on the active roster. But when he has been on the mound, Milwaukee's best pitcher has been nearly untouchable.
Hader is been throwing the slider at the highest rate of his career, by far, at 43.3% compared to 17.0% for his career. Combined with his deadly fastball, one of the best in the league, Hader hasn't given up a single hit with either pitch yet in 2020, striking out 6 of 14 batters on the season.
3. Freddy Peralta's curveball
Peralta first endeared himself to fans as a starting pitcher who relied much more on his fastball than you would normally see from a starter, hence the nickname "Fastball Freddy." He still uses the fastball plenty, but his curveball, the only other pitch he has thrown all three years in the majors, hasn't surrendered a hit in 2020.
An increase in horizontal break – from 8.2 inches of break last year all the way to 13.9 inches this year – could be what is throwing hitters off. Mixing in a slider in 2020, a pitch that also hasn't given up a hit, has also given him a more diverse mix of pitches that may have ended up making the curve more effective.
Honorable Mention: Alex Claudio's changeup, Corbin Burnes's slider
Claudio's changeup, which has the most total movement of any changeup in the league at 52.8 inches, has also given up an average exit velocity of just 76.6 mph. Meanwhile, Burnes has thrown his slider 28 times, only to right-handers, with a whiff percentage of 72.7% when hitters have dared swing at it.
These are just a few of the specific pitches that have made Brewers pitchers dangerous so far this season. But if you're a batter who wants a hit, maybe pick a different pitch at which to swing.