Brewers: Christian Yelich Credits Clutch Home Run To Chewing Gum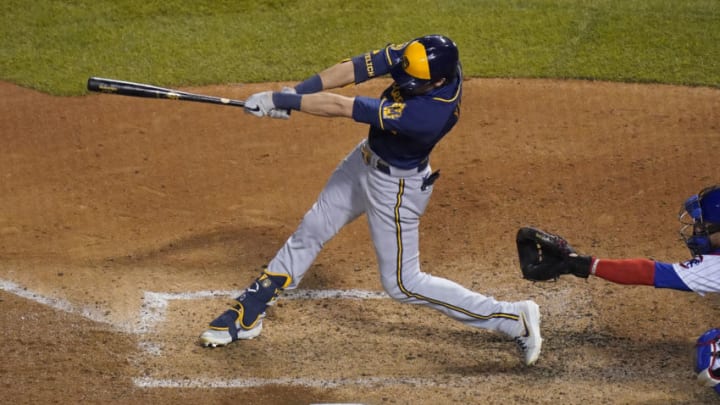 CHICAGO, ILLINOIS - AUGUST 14: Christian Yelich #22 of the Milwaukee Brewers hits a three run home run during the sixth inning of a game against the Chicago Cubs at Wrigley Field on August 14, 2020 in Chicago, Illinois. (Photo by Nuccio DiNuzzo/Getty Images) /
It's no secret that Brewers superstar Christian Yelich has gotten off to a slow start offensively this year.
He's not quite all the way back to normal, but he's getting close. Friday night, the Brewers got a clutch home run from the man who needed one most, Christian Yelich.
Yelich hasn't looked like himself all season, and it's been frustrating for him to continually swing and miss at pitches he normally crushes and his interviews have started to get pretty self-deprecating.
But Yelich's big home run against the Cubs to put them on top was a great step in the right direction. So what was the key to that at-bat?
Chewing gum.
That's it, that's the secret. Yelich decided to chew some gum during his at-bat to distract himself from thinking about how bad his at-bats have been all night and really all season. You know what they say, baseball is 90% mental and the other half is physical.
It's crazy to a lot of people to think that a simple act such as chewing gum during an AB would have that kind of impact on the result. During his first two at-bats, Yelich struck out. He's struck out in 30% of his at-bats this year. For comparison's sake, over his last two years with the Brewers, Yelich has been around a 20% strikeout rate.
Baseball is an interesting game, one full of quirks and interesting stories such as this one. Did he go up there thinking he was going to hit a home run because he was chewing gum? Not at all. He went up there with gum so that he wouldn't think.
When you're thinking too much, that's when baseball players start to struggle. And if you're thinking about how terrible you've been playing, you're most likely going to struggle even worse. Yelich is one of the best hitters in baseball because when that pitch is being thrown, he doesn't think, he just reacts. Lately he's been thinking too much, and being able to chew some gum during his AB helped him to not think and just react.
It's not a highly technological solution to the problem, but it works. How did hitters in the 1920s solve their hitting woes? They didn't have videos and computers to look up what they were doing wrong and how to fix it. Sometimes the fix is as simple as chewing some gum to prevent yourself from thinking about the AB too much.
If chewing gum helps Yelich get out of a slump, let's just say I hope they brought enough for everybody else on the offense.
Perhaps Yelich will now continue to chew gum during the rest of his ABs moving forward. If that's the case, maybe there will be a Dubble Bubble sponsorship down the road. Who knows?